Holidays such as Thanksgiving, Black Friday, Cyber Monday, Christmas, New Year and Chinese New Year (CNY) are just around the corner.
According to Business Insider, $126 billion in online sales were generated during the holiday season in 2018. Hence, it is definitely the perfect time to reach more audience in order to drive more holiday sales.
Have you prepared for your holiday marketing plan?
Have you tried to work with influencers for your holiday marketing campaign?
If you haven't, here's the complete guide for you.
In this guide, we'll show you:
Without further ado, let's get started!
Why You Should Collaborate With Influencers for Your Holiday Marketing Campaigns
Before we dive deeper, let's check out some interesting statistics that help to shed some light on this topic.
49% of users rely on influencer recommendations before they make any purchases.
Besides, a study done by Think with Google shows that 6 out of 10 subscribers would follow the advice on what to buy from their favorite YouTube content creators over celebrity.
(Source)
Based on our research, 71% of consumers in the United Kingdom are more likely to make a purchase based on a social media reference.
From our research about the influencer marketing landscape in Singapore, we realize that influencer marketing generates an average of $6.85 for every dollar spent.
On a side note, it is also note-worthy that the average cost-per-click (CPC) of Google search ads increased by 14% in 2018 (WordStream).
Therefore, it is clear that influencer marketing can be a powerful marketing vehicle if it is utilized properly. It is also a good alternative to overcome challenges associated with the traditional online ads which include the ever-changing Google and social media algorithm, increasing ad spend due to fierce competition and ad blocking.
5 Steps To Combine Your Holiday Marketing Campaigns With Influencer Marketing
Step #1: Identify the objective, budget and key performance indicators (KPIs) of your influencer marketing campaign.
Since many advertisers are vying for attention and many have joined the bandwagon to partner with Instagram influencers to increase holiday sales especially for seasonal items, it is important to clearly establish your goals before you kickstart your holiday marketing campaign.
Think about what you want to achieve at the end of the campaign. Are you planning to garner more brand awareness, website visits or e-commerce or retail sales?
This is an important question to look into as it affects your overall holiday marketing plan and dictates the next step that you are going to employ.
You will also need to identify the budget that you should allocate for influencer marketing which will also determine how many influencers that you intent to work with and what kind of content formats that they will create to promote your brand.
Besides, it is also paramount to list down the KPIs which are tied to your objective. These are the key metrics that you will use to evaluate the results of your campaigns to find out which influencers generate the best results for your brand.
Meanwhile, you will also need to figure out how to track and measure the results for post-campaign management.
If your goal is to enhance your brand awareness and share of voice, number of post reach, likes and comments are some of the metrics that you can use to study the performance. Furthermore, you can also create a branded or campaign-related hashtag and use a hashtag tracking tool to find out how many people are talking about your brand after your holiday marketing campaign ends.
Lazada, for instance, has worked with Instagram influencers in Malaysia such as Dennis Yin, Eden, Nigel Chin, Ilman Hakeem and other four male influencers for its CNY campaign in 2019. A specific hashtag, #SlashTheLengChai was created to track the social mention.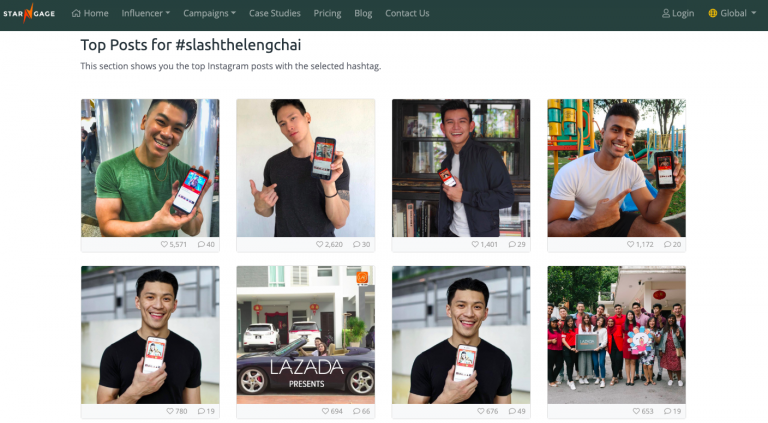 On the other hand, if your goal is to accelerate sales and a small amount of commission will be given to the influencers, make sure your Google Analytics tracking code is properly installed and the referral links must contain unique UTM code for each influencer whom you work with.
Use Google Analytics Campaign URL Builder to add the campaign parameters to the URLs before you send them to the influencers.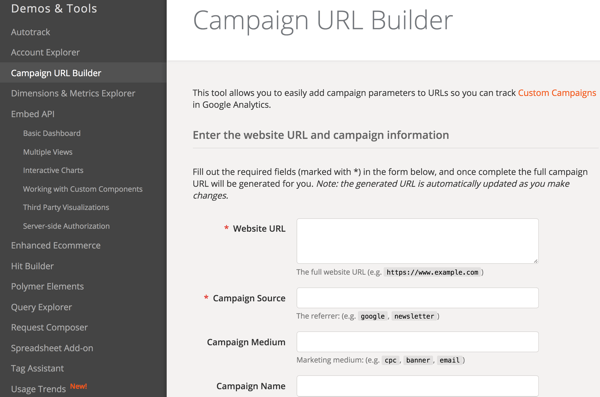 Using a unique promo code for each influencer is also one of the ways that you can use to measure the results based on the number of times that promo code has been used, revenue, transactions and average order value.
Step #2: Develop an overarching marketing theme and campaign-related hashtags for your campaign.
After you have identified your objective, budget and KPI, the next step is to brainstorm and develop an overarching marketing theme to shoutout to your target audience.
Due to the intense competition, it is no doubt that the audience will be bombarded with various ad messages during this peak period, making it hard and competitive to grab their eyeballs. Hence, it is important for your team to think out of the box in order to develop a mind-blowing marketing message or tagline that can stand out from the 'gram during the holidays.
Having an eye-catching theme is not easy but you can always try by focusing on your Unique Selling Propositions (USPs) and what action that you hope your audience will do after seeing the posts published by the influencers.
One of our advertisers, Paragon Singapore has partnered with us to invite 16 influencers to launch its Christmas-themed #paragonmannequinchallenge campaign in the shopping mall. By riding the social trend, it managed to reach more than 100,000 Instagram users and garner over 6,000 likes and 120 comments on Instagram.
In addition, you can also take it up a notch by developing a campaign-related hashtag after you have decided your theme. Apart from tracking purposes, a thematic hashtag helps to gel your brand together with the specific holiday, making it highly memorable and meaningful.
Take example from Simply Hamper. This online hamper and gifting company based in Singapore created a thematic hashtag, called #SimplyChristmas2017 and #SimplyHuat for its Christmas and CNY campaigns in 2017 and 2018 respectively.
Step #3: Determine the product to be promoted and create a detailed brief for your influencer marketing campaign.
As mentioned, holidays represent business opportunities to sell more your seasonal items that are only available for a short time period. Put emphasis on products that match the holiday season. Christmas is not complete without a Christmas cake!  Thus, Prima Deli, for example, collaborated with Nicholas Lau and the other top food influencers in Singapore to promote its Christmas cake.
Furthermore, other than seasonal products, you can also work with influencers to promote your best-sellers. To find out your hot-selling products, use Google Analytics to look at historical data from the previous year to gain more insights. Go to Conversion > Ecommerce > Product Performance. By studying the Product Performance report, you will know the product revenue, unique purchase and quantity sold for each product.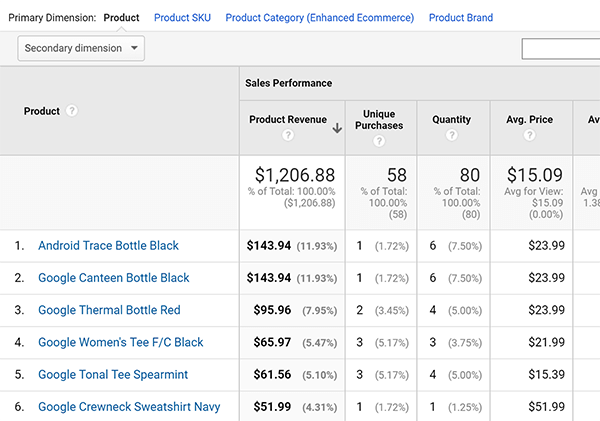 (Source)
Then, prepare a campaign brief to reach out to the influencers by listing down your theme, hashtags, link, promo code, products that you want to promote and the campaign deliverables. Clearly highlight the deadline to ensure that the sponsored content can be published before or during the audience is at the product research stage.
Step #4: Search for the ideal Instagram influencers or Key Opinion Leaders (KOLs) for your campaign.
After you have formulated your holiday marketing plan, it is time to find the right influencers who are aligned with your brand identity and have followers with characteristics similar to your target audience.
One of the easiest ways to look for the perfect influencers is to create a campaign on influencer marketing platform like StarNgage that connects brands with the ideal influencers.
Besides, you can also use our influencer search tool to search for relevant influencers for different countries. Save your time by checking out our influencer ranking if you are looking for Instagram influencers who are the subject matter experts for particular topics and areas.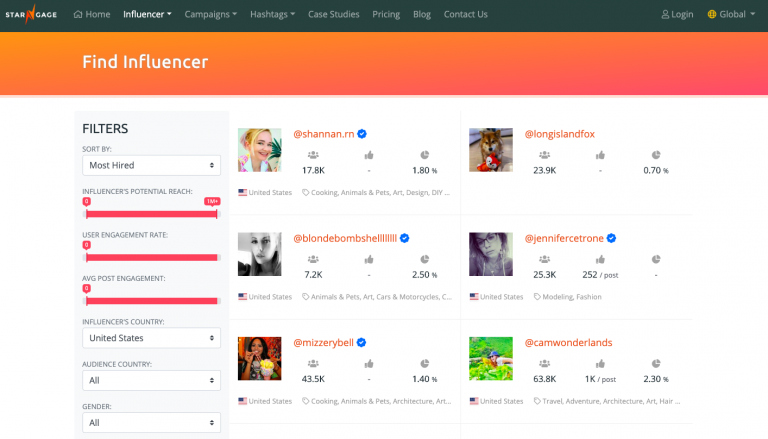 Another way is to find out micro-influencers who initially like your products and have already talked about your products on social media. This can be easily done by utilizing the hashtag search and tracking tool to identify your brand advocates who are more likely to accept your invitation for collaboration.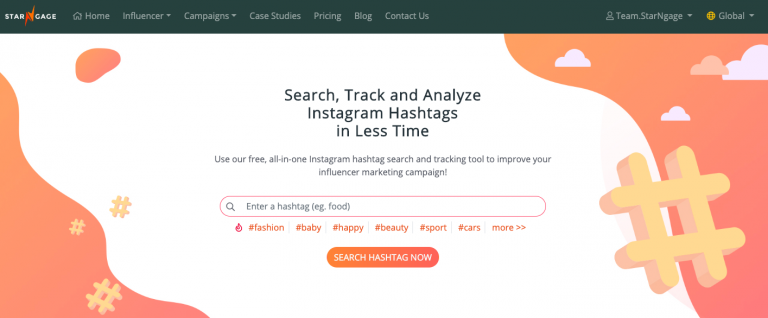 Once you have selected the influencers who are the perfect match of your holiday marketing campaign, shoot them an email with personalized message and get ready with the delivery of your sponsored products.
Step #5: Track and analyze the results of your influencer marketing holiday campaign.
The last step of your influencer marketing campaign is to track and study the results of your campaign. Again, the hashtag search and tracking tool is the brilliant tool to find out the number of reach, likes and comments on Instagram if your main objective is to amplify your online presence and enhance engagement rate.
If your goal is website traffic and conversion, you should rely on Google Analytics to evaluate your campaign performance by focusing on unique pageview, number of conversion, conversion rate and unique purchase value.
If you are using promo code as an incentive to drive more sales, go to Conversions > Ecommerce > Order Code to discover the revenue, transactions and average order value.
From the compiled results, you can make a judgement whether your campaign is successful and detect which influencers have the highest return on investment (ROI). By doing so, you can decide whether you will want to work with them again for future campaigns.
Conclusion
'Tis the season to bring your holiday marketing campaign to the next level by working with Instagram influencers. Explore our success stories on how we work with our clients to make influencer marketing and holiday marketing the powerful couple!