Although influencer marketing is not a new concept in the market, an upsurge in the popularity of social media and eCommerce has introduced the concept of social media influencers, indeed. With every business trying its best to acquire a bigger share of the market, the internet today is full of promotional noises. As a result, the public has gone sceptical about brands that indulge in self-promotion.
In such a situation, influencer marketing has come as an alternate way to promote without sounding like a shameless promoter. With all that promotional noise cluttering the internet, an influencer's voice remains pretty clear, authoritative, and louder in the market.
Today, the customers seek close interactions with the brands before making a purchase decision, and this behaviour has gradually developed a shift towards marketing transparency between the brands and the customers. From YouTube channels taking interviews of the CEOs to social media influencers giving a video tour of the production plans, everything we see today is all about channelling the influencers to impart a sense of transparency among the customers. So what exactly is Influence marketing?
Who are the Influencers? 
An influencer could be a trusted public figure, an expert in a domain, or anyone with an authentic opinion to guide his or her followers with respect to certain decision making processes via content, experience, and word of mouth.
Anyone can be an influencer. They can be celebrities or even everyday individuals who have a following among the public. As eCommerce uses the vector of the internet for business, the concept of modern-day influencers today can be well defined by the volume of loyal and dedicated social media followers they have on an online platform.
In this day and age, there are many types of influencers you can engage with. From bloggers, YouTubers or Instagram influencers, social media remains an ultimate destination to find people with an influence on the public. However, not every social media influencer is a perfect fit for every kind of business. You should be highly careful while selecting an influencer, or you might just ruin your brand image instead.
we will talk about this in the latter part of the article. However, let's understand the current state of influencer marketing via a study done by econsultancy for the year 2020. Their major findings include:
A majority of prospects admitted being influenced by the content creator who comes up with authentic and engaging content
90% of marketers believe that influencer marketing only works when influencers are able to prove the authenticity of their opinions.
85% of marketers consider user-engagement as a major driver of success in influencer marketing.
61% of consumers aged between 18-34 years have at some point in time been influenced by the opinions of social media influencers.
Micro-influencers are more valuable than celebrity influencers in certain areas. 61% of consumers believe that micro-influencers present more relatable and useful content.
The Power of Influencer Marketing
Consumers always want to hear recommendations from people they trust. Hence, if you engage with a trusted and well-liked figure suitable for your industry to promote your services or products, you would be able to boost your sales.
Many organisations have partnered with several social media influencers to help boost their brand awareness or conversions. If your influencer marketing strategy is well planned out and ties perfectly with your eCommerce strategy, you can achieve incredible results and sustainable growth in sales.
Take Old Navy for instance. The brand is a very old player in influencer marketing strategies. They collaborate with fashion and lifestyle social media influencers on Instagram to promote their clothing line ups. However, they doubled their campaign during the Black Friday sales by collaborating with Alex Rodriguez, the New York Yankee retiree. Promoting a cause to raise funds for the Boys & Girls Club of America (BGCA), the campaign was a great success. As Rodriguez himself is an alumnus of the BGCA, this collaboration helped Old Navy raise 1 million USD as part of its Black Friday sales.
That was Onl Navy, but how should you proceed to launch your own eCommerce influencer marketing campaign?
Formulating a Strong Influencer Marketing Strategy For eCommerce
Developing the right influencer marketing strategy can be critical in boosting your objectives i.e brand awareness and sales. Consumers today no longer heavily depend on traditional and tactical marketing tactics like "Buy 1 Get 1 Free".
Instead, they rely on how you tell a story with your products or services, the experience you can offer as well as your brand's reliability. And engaging with influencers could help. Influencers have already earned the trust of their followers, and In fact, they are very very keen and enthusiastic to hear the opinions and recommendations he/she has to offer.
Here are some considerations you have to look out for when planning your influencer marketing strategy:
Identify your target audience
Using personas, define your audience's interests and consumer experience journey
Shortlist influencers who have followers that are interested in similar products or services your brand has to offer.
Identifying and Engaging The Right Influencers
The key to identifying the right influencers for your brand is knowing your audience. With an understanding of your audience's demographics, preferences, and interests, you can proceed to the next step, which is knowing your influencers.
There should be a correlation between your target audience and your influencer's target audience. Apart from this, the niche, personality, authenticity, reach, and engagement stats of the influencer should also align with your marketing goals.
Identifying and contacting the influencers is not an easy step; it has to be carried with care. Keep in mind, the influencers you are approaching may have other brands bombarding them with requests or are simply busy because being an influencer isn't their main job. Keep your request and brief as clear as possible and don't be pushy about it.
Nowadays, agencies are also working with influencers. They offer a catalogue of diverse profiles that may align with your brand. Of course, they charge a fee for this type of service but make a safe and efficient way to approach social media influencers based on your needs.
Choose the Best Social Media Platform
Every social media platform has different objectives and serves a specific audience to increase your sales. Let's have a look at an overview of the most popular social media platforms used by eCommerce businesses.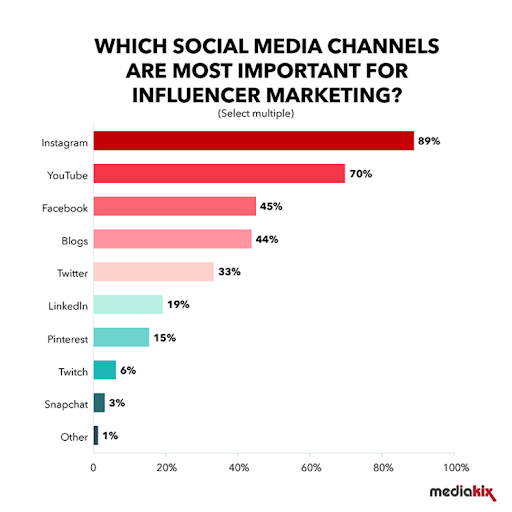 Source: Mediakix
Instagram: 
Instagram has become a social media powerhouse with over 1 billion active users.  It has also become the fastest growing network for influencers. The ease of photo sharing on Instagram produced a huge variety of influencers with different niche audiences.
It is a great platform for growing awareness, expanding audience reach, communicating with your audience for your e-commerce business. Furthermore, with other features like Instagram Stories, you can also explore different content formats to advertise and sell your products.
Sponsored Instagram posts are easy to produce, approve, and publish, therefore easy to scale up. You can explore different formats such as static, square link post, videos, video link post depending on what the objective of your posts.
Note: You shouldn't rule out videos and long-form content because based on your content strategy, these formats can also prove effective for your objectives.
YouTube: 
YouTube is an influential social media platform with 2 billion monthly active users. You may experiment with videos Ads on YouTube, but considering the attention span of the audience on YouTube as low as 6 seconds, Ads do not get enough time to capture the attention. Therefore, it's important to leverage every other content format on the platform to gain as much publicity. You can experiment with product sponsorships, Unboxing videos, giveaway contests, video sponsorships, and featuring influencers in your Ads etc. to align your goals with that of your target influencers.
As millennials use this platform more, it is a great platform for branding and acquisition. It works efficiently on the marketing funnel and offers engaging visual content to drive sales on your eCommerce store.
Take One Plus, a smartphone brand for example. Besides YouTube Ads in collaboration with influencers,  the company has also collaborated with YouTube mobile games streamers to boast of its powerful processor. The brands have sponsored the mobile phones for many mobile game streamers, who in turn, promote it within their streams.

Source: Youtube
One more example could be seen during the launch of Marvel's movie named "Avengers- Endgame". The directors, writers, or star cast of the movie were seen giving interviews to YouTube Creators, which helped the movie gain further boost through hypes among the audiences of respective YouTube channels.
Key Benefits of Marketing through Influencers
The Return on investment (ROI) from influencer marketing is better than other marketing channels as it remains top of mind for many e-commerce marketers. Also, many small business owners are investing in an emerging channel if they can't generate quantifiable results. Before you start planning how to reach influencers and what kind of campaign to launch, know some important benefits of it.
Ecommerce influencer marketing is no longer reserved for multi-million dollar companies with wide-reaching connections. Even if you're a small eCommerce business, you can still achieve great and propel your business insights to great heights with influencer marketing.
People want to know recommendations from trusted people whose opinions they can believe and buy.
The influencer's information and advice are reliable for their followers.
With influencer's recommendation, you set apart from the competition by positioning your brand as the best choice and increase your sales tactics.
But how exactly can influencer marketing help your eCommerce business? Let's have a look.
Boost your Brand Awareness 
Brand awareness is essential for an eCommerce business in order to be a brand that the audience will immediately associate with. As online shoppers are very careful and do much research before buying a product, so having trusted figures will give assurance for your brand. Luckily, that's exactly what influencer marketing can provide. It will also help you to reach new audiences by making your brand appear more authentic and trustworthy.
Build A Trust-Based Relationship with Your Audience
Transparency in marketing leads to trust when trying to sell online. You can see a lot of scams and false claims in online advertising, so consumers need to become more careful while buying. Thus, influencer marketing will help the brand to see its effectiveness. You will bypass a lot of trust issues by getting a prominent figure in your industry. This will help in increasing your sales directly. Influencer marketing also helps you to nurture a relationship with your customers by eliminating fears of being scammed.
Improve SEO
Influencers are considered as 'Royalty' of the web. With a huge audience, they become the trendsetters in their industry as well as in search engines. They have their own high authority websites to spread their messages online. So, when they make a recommendation for your products and link to your websites by providing a backlink, you will get a huge boost in the rankings.
Takeaways
It's tough for an eCommerce store to stay significant in a competitive market space. To gain an edge over your competitors and increase sales revenue, reach out to your audience and accommodate your products in different marketing channels. Leverage on social media and influencer marketing as powerful tools to boost your marketing strategy and maximise your brand exposure. Don't rush to find the best and suitable influencer because not all influencers can promote your products effectively and guarantee sales.
---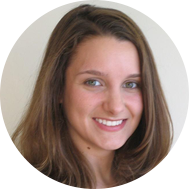 Jessica Bruce

I am a professional blogger, guest writer, Influencer & an eCommerce expert. Currently associated with ShopyGen as a content marketing strategist. I also report on the latest happenings and trends associated with the eCommerce industry. Follow me on Twitter @Jessicabruc.