Social Media Influencers
Social Influence is not a new phenomenon but the searches for influencer marketing have risen 5X over the past few years according to Google Trends.
What is Social Media Influencer Marketing?
Social Influence is not a new phenomenon but the searches for influencer marketing have risen 5X over the past few years according to Google Trends.

The underpinning reason is that we are all more connected than ever with the advent of social media platform like Facebook, Instagram, Twitter and Youtube. It's where we go for news and updates from friends and family, where consumers discover new solutions or go for advice. The core of social media network, the trusted inner circle reside social media influencers. These are social media stars who their followers spire to, from fashion, beauty to travel. Social Media Influencer marketing is a trend on the rise as more and more businesses are turning towards social media personalities to create and produce branded content. It's a win-win where brands seek access to highly engaged niche audiences and social media influencers seek a value exchange that provides VIP treatment and monetary rewards. Brands gain a human touch for delivering their brand message and social media influencers garner exposure and building up their personal brand.
Why Social Media Influencer Marketing?
86% of marketers are now practicing influencer marketing in some form - AdWeek
48 Marketers plan to increase their influencer marketing budget - eMarketer
11x the ROI of a standard digital campaign - Nielsen Catalina
92% of consumers trust recommendations from friends, family, and influencers - Nielsen
74% of consumers use social media to make purchasing decisions - Sprout Social
85% of consumers' time on mobile is spent on just 5 apps - Forrester
26% of desktop and 15% of mobile users use ad-blockers - IAB
What Should You Use Social Media Influencer Marketing For?
Increase Awareness
According to a survey from Adweek, 92% of today's consumers trust recommendations from others over branded content. With influencer marketing, brands can reach millions of consumers through the voices of people they trust the most - their peers. You can activate hundreds of influencers who then create thousands of pieces of original creative content about your product or brand and share them across multiple social networks, increasing awareness through stories versus the paid static banner ads.
Engage Audience
When you work with influencers, engagement happens naturally as a result of the meaningful relationship influencers already have with their audiences. Consumers are more likely to engage directly with your brand or product if they're introduced to it by someone they trust rather than through brand-created content.
Drive Traffic
Influencer marketing has also proven itself to be a reliable tactic for generating inbound traffic especially if it is an evergreen long-form content, such as a blog post. This type of content will continue to surface in search results and drive traffic to your site long after the conclusion of your influencer marketing campaign.
Grow Database
It is quite common for brands to tap into Influencer marketing to grow their email list. You can offer a sweepstakes entry, newsletter sign-ups, or coupon downloads and ask your influencers to promote the contest or event to their fans.
Increase Sales
Want to see an increase in sales? Influencer marketing can be very effective at driving sales if you do it right. It's about working with the right influencers to produce the right content that map your customer journey.
Here's how:
Awareness – Influencers extend your reach to their loyal audience base.
Consideration – Influencers spark higher engagement online and increase the amount of qualified leads flowing into your sales funnel.
Decision – Through product reviews and recommendations, influencers drive conversion and increase sales.
Adoption – Influencers create positive brand sentiment as a trusted source to their following.
Advocacy – Through digital word-of-mouth, influencers inspire their followers to share your brand's content.
Why Is Social Media Influencer Marketing More Effective than Traditional Advertising?
Trust
Research shows that influencer marketing can sway the opinions of today's consumers more effectively than traditional advertising. According to Nielsen, recommendations from people consistently tops the trust rankings across all generations, beating out branded websites, TV ads, newspaper ads, and editorial content.
More Value and More Effective
Influencer marketing programs deliver significantly more value than display ad campaigns and can even make your social advertising more effective. Each influencer marketing program provides the brand with original content and lifetime value. The influencer content will continue to be discovered through search and social sharing over time.
Authentic
To combat ad blocking, many brands are turning to influencer marketing as an effective alternative. Influencer created content can't be blocked and is inherently different from digital display ads in that it provides entertainment or informational value as part of an authentic story. Because the content comes from a trusted source, consumers are significantly more likely to engage with the sponsored content rather than quickly clicking to exit.
How To Choose Your Social Media Influencer Types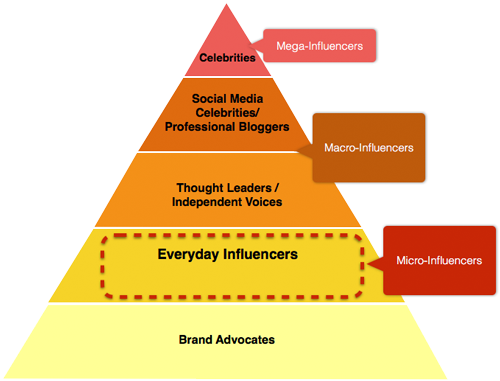 The Pyramid of Influence
The Pyramid of Influence encompasses the full spectrum of your influencer relationships. Here is a breakdown of how that pyramid works from the top down. Not all influencers are the same. Over the past few years, there is a big shift in focus from these high-end influencers to micro-influencers. To explain the different types of influencers, StarNgage uses the Pyramid of Influence. Influencers with a high reach and lower relevance, like celebrities and thought leaders, are at the top of the pyramid, while those with lower reach but higher relevance, like advocate and current customers are at the bottom. Micro-Influencers is a mix of people who have reach, but more importantly, have a high relevance among their audiences. Their influence lies in their niche understandings and the mutual trust with their audiences.
Spectrum of Influencers
The term 'influencer' used to describe celebrity and social media elite. But the mass adoption of social media leveled the playing field to include bloggers, instagrammers, youtubers and even everyday consumers. As such, the industry is working to establish a common taxonomy to talk about influencers. Influencers can be identified among the following three types:
Mega-influencers
Actors, artists, athletes and social media stars who have 500k+ followers and drive 2%  to 5% engagement per post. They have the highest reach on the influencer spectrum, with their influence driven by their celebrity (they tend to be brands in their own right). They have the lowest overall resonance when it comes to driving actions on behalf of a brand.
Macro-influencers
Professional bloggers, and YouTubers who have large base of 50,000 to 500,000 followers and drive 5%  to  20% engagement per post. They have the highest topical relevance on the spectrum, with category-specific influence – such as lifestyle, fashion or business.
Micro-influencers
Everyday consumers who have 500 to 100,000 followers and drive 25% — 50% engagement per post. They have the highest brand relevance and resonance on the spectrum of influencers, with influence driven by their personal experience with a brand and their strength of relationship with their networks.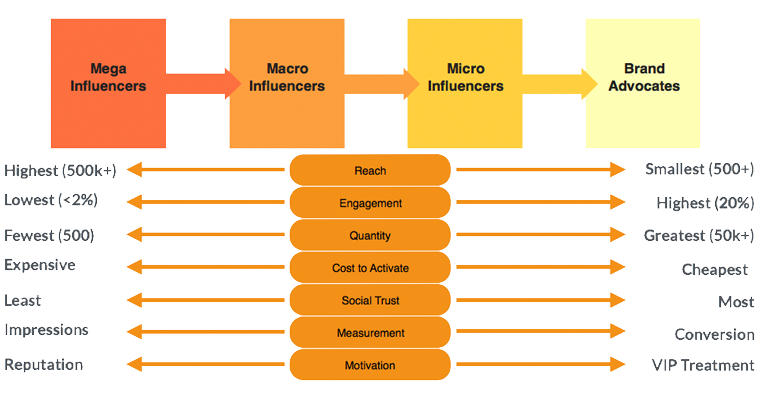 How To Choose Your Social Media Influencer Marketing Content Types
Plan Your Content Type Before Activating The Influencers
Brand Generated
Brand creates the content and influencers are activated to share it with their networks.
Influencers don't add any personalization; they simply share the content. Least risk.
Less Creativity and personalization. Least impactful.
Co-Developed
Brand develops guidelines for the content and influencers create their own content based on adaptation. For example: "Share a picture of your selfie in Singapore Botanic Garden".
Moderate Impact Pontential.
Mild risk.
Influencer Generated
Content is generated by Influencers based on their creativity. Brand gives loose and generic direction.
Influencers have full creativity with loose guideline from brands. Maximum impact.
Review process is needed as part of risk management as the risk is higher.
How To Choose the Right Incentive for Your Social Media Influencer
Plan Your Incentives Before Activating The Influencers
There are different factors you should consider before making a decision on what kind of incentives you offer to your influencers.
Exclusivity: Incentives should be exclusive to only influencers that you like to activate in order to motivate participation in your influencer marketing campaign.
Influencer type: Most of the mega-influencers and macro-influencers will require cash payment, while micro-influencers will consider other form of compensations aside from cash.
Brand affinity: The most enduring and valuable level of influencer relationship is based on the mutual belief that the influencers and the brand share common values. It is advisable to activate relevant influencer who is passionate about your brands for best results. Branded incentives will work best in this case.
Fulfilment Effort: If more effort is required by the influencer to create and share branded content, then a higher incentive value is needed.
Types of Incentives
Cash
For most of the mega-influencers and macro-influencers, you will have to use payments for incentives. However for micro-influencers, some of them are open to receive VIP treatments and special branded incentives other than cash.
VIP Treatment
When activating micro-influencers, the most popular incentive is an exclusive experience. This type of incentive works best when they are passionate about your brand. This could be in the form of a discount, gift card, limited product giveaway, VIP free trial etc.
Recognition
Micro-influencers are more than happy to receive non-monetary rewards such as recognition. You can do this by featuring their content on your owned media such as Website or share their voices and give them a limelight on your social media channel.
Common Incentives Ideas
Exclusive Event
Early Access
Discounts
Free Trial
Contest Entries
Gift Cards
Experience Box
Limited Product Sample
Priority Service
Brands use StarNgage to Find Influencers
Request a consultation to discuss how we can help your next Influencer Marketing Campaign
Request For A Demo
This website uses cookies. By continuing to browse the site you are agreeing to our use of cookies.