The Ultimate Instagram Stats
Instagram Stats Every Marketer Should Know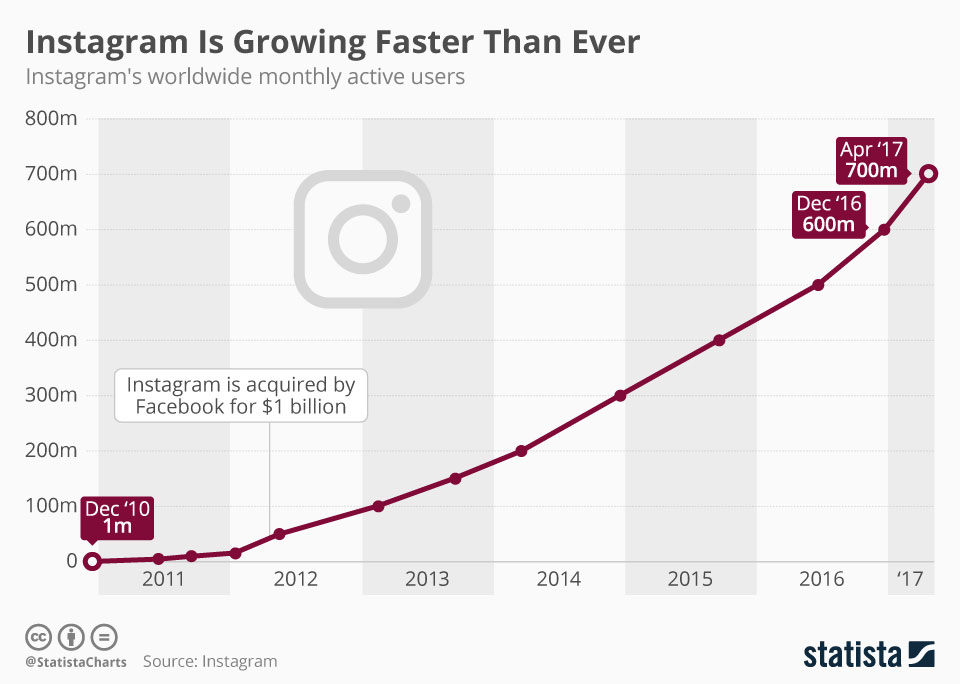 Instagram's Growth
Launched in October 2010, the Instagram community grew to 1 million users in just three months- This ballooned ten-fold to 10 million users in 2011.
Instagram for Android launched in 2012 saw a whopping 1 million downloads in its first day. It later skyrocketed to 5 million Android downloads in the first 6 days.
Facebook buys Instagram for $1 billion, 2012.
When Instagram first introduced video in June 2013, more than 5 million were shared in the first 24 hours.
The Instagram community has grown from 1 million active users in December 2010 to more than 700 million active users in April 2017.
Instagram Usage
There is 38% of female (U.S.) internet users who use Instagram in 2016
There is 59% of internet users (U.S.) aged 18 to 29 years who use Instagram in 2016
There is 30.5% of global users who access Instagram more than once per day as of 2016
Average unique monthly visitors to the Instagram app in the U.S. in December 2016 90.13m
Monthly time spent by U.S. users on the Instagram app as of May 2017 is 254.71 mins
Instagram Advertising and Marketing
Most popular brand on Instagram ranked by number of followers in May 2017 is National Geographic
Average number of monthly image posts by brands to Instagram in June 2017 is 23.5
Average number of monthly video posts by brands to Instagram in June 2017 is 4.5
Most-followed fashion brand on Instagram as of February 2017 is Nike
Most-followed luxury brand on Instagram as of May 2017 is Chanel
Number of monthly active advertisers on Instagram as of March 2017 1m
Instagram For Business
In a study of 55 brands, the brands posted an average of 1.5 times per day.
The best times to post on Instagram are Mondays and Thursdays at any time except between 3:00–4:00 p.m. in your target audience's time zone.
The most common posting frequency for brands on Instagram is 11–20 times per month, with almost one-third of companies measured falling into that bucket.
90% of the Interbrand 100 companies now have Instagram accounts. Of all 100 companies, 80% post at least one Instagram photo or video per week.
Of the Interbrand 100 companies, the number of brands that post on Instagram more than 50 times per month has doubled from 7 in 2014 to 14 in 2015.
In a study of several thousand brand posts, the average engagement rate is 4.3% and the median is 3.5%. That means that the average post in this sample saw 4.3 activities (a Like or a comment) per 100 followers. Phrased another way, to get 100 Likes and comments on a post, a brand would need approximately 2,325 followers
Brands use StarNgage to Find Influencers
Request a consultation to discuss how we can help your next Influencer Marketing Campaign
Request For A Demo
This website uses cookies. By continuing to browse the site you are agreeing to our use of cookies.