Today, we are excited to announce that after tons of hard work, StarNgage is finally taking one step forward on our commitment to improve our influencer marketing platform by rolling out a powerful Instagram hashtag search and tracking tool!
Wondering how you can benefit from this new tool? Let's find out what it is and how to use it effectively!
Presenting Our Instagram Hashtag Search and Tracking Tool: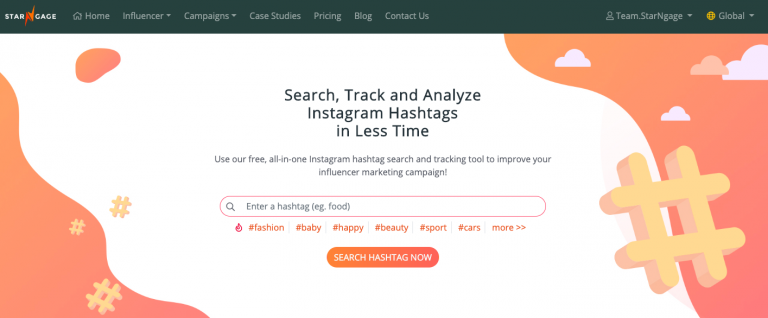 At StarNgage, we help more than 3,000 brands to accelerate its Instagram performance through influencer marketing. We help them to search for suitable influencers, reach out to them, connect with them for content ideas and transfer of payment. We manage to receive positive feedback from the advertisers but at the same time we do hear question like whether any of these efforts is worth and is generating promising results at the end.
One day, someone from our team has come out with a brilliant idea to develop this new tool – a tool that is not only used for hashtag search but also tracking hashtags that are used for your influencer marketing campaign. Sounds smart, right?
Here are some of our favourite things about this tool:
Let's dive deeper into our favourites.
#1. It provides accurate, real-time data.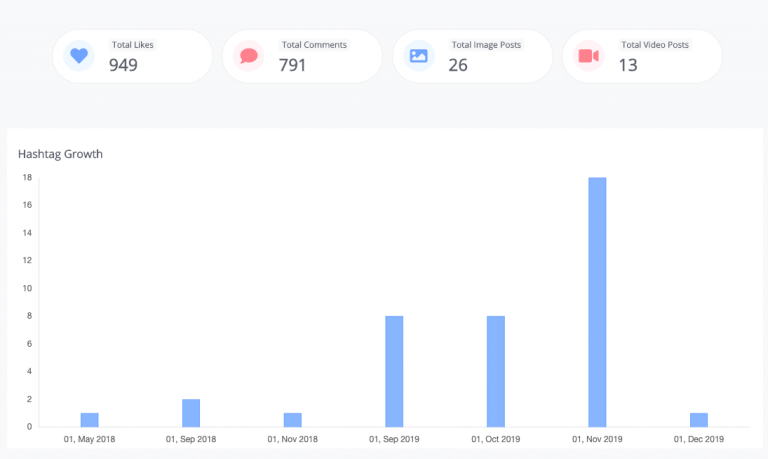 Things change very fast in the internet world and it is important to have accurate, real-time data related to your brand so that you can react as quick as possible. By using our new Instagram hashtag search and tracking tool, you are able to find out the total likes, comments, number of images and videos associated with the hashtags that you search or track. It will also show you the hashtag growth over the months and the top-performing Instagram posts with the selected hashtags. If you are tracking your branded hashtags, our in-dept analytics will serve as a social listening tool that enables you to find out your potential brand advocates on Instagram.
#2. It shows a list of relevant Instagram hashtag ideas.

How many hashtags should I use on my Instagram posts? That is a common question faced by most advertisers. There isn't a rule of thumb that you should strictly follow. In fact, our social media strategist suggests to use various hashtags to tap into new audience as long as they are relevant to your brands. By using our hashtag search tool, it will show you a group of relevant hashtags that you can also insert into your Instagram posts in order to gain more reach and enhance your brand presence. You can also use our compiled list of top hashtags if you are looking for trending hashtags with high reach or do not have any specific hashtags appearing on your mind.
Get Our Influencer Rate Card Today!
A brand new way for you to compare the rates of influencers across the world.
Learn More
#3. It is an alternative to our influencer search tool.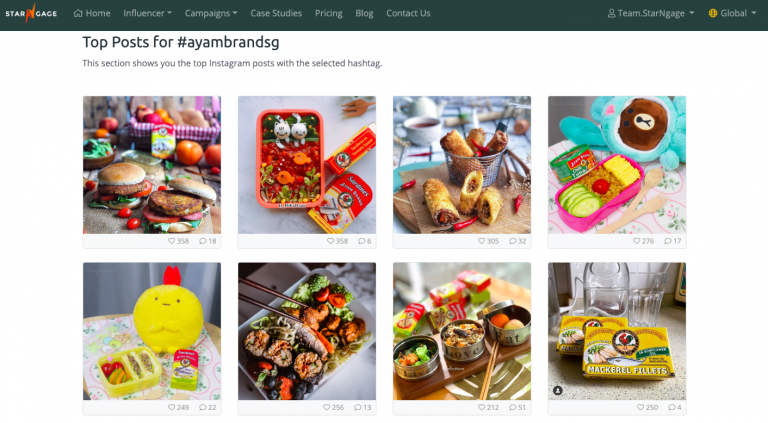 Other than our influencer search tool and the latest top Instagram influencer ranking in 2019, the new Instagram hashtag search and tracking tool is another alternative if you are looking for user-generated content (UGCs) or influencers who have already known and mentioned your brand on Instagram. By using our hashtag search tool, you can check out the top-performing posts with the selected hashtag to identify Instagram users who have used your branded hashtags in their posts. It will be easier to invite them to join your free sponsorship or paid campaign since they have shown their likings towards your brand. Their content will also be more authentic and genuine.
Let's work together!
Interested to learn more about StarNgage, our tools and influencer marketing service?
#4. It can be used to track influencer marketing campaign.

As mentioned, you can use our hashtag tracking tool to identify the influencers or KOLs who have mentioned your brand by looking at the top-performing posts with the selected hashtag. This means that you can also use our hashtag tracker to track the performance of your influencer marketing campaign. Simply click on the "Add to Hashtag Tracker" button and you can easily track the campaign-specific hashtag that you have requested the influencers to insert into their Instagram post captions. By doing so, you can easily keep track of the performance of your influencer marketing campaign and determine which influencers have garnered the best results which will justify whether you should work with them again in the future.
#5. It is an excellent tool for competitor analysis.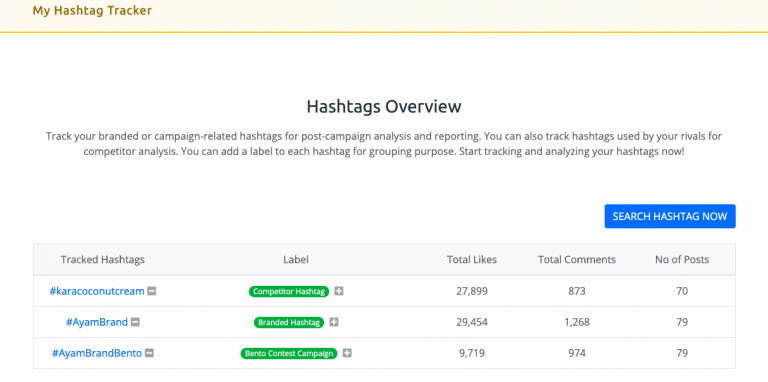 Versatile and highly flexible, our hashtag tracker is good for keeping tabs on your competitors, too. What you need to do is to find out the branded hashtags used by your competitors and track for their performance like what you do when you are tracking the performance of your own hashtags. To organize the hashtags easily, simply add in the label for different groups of hashtags such as branded hashtags for your brand-related hashtags, campaign-specific hashtags and competitor hashtags which include those used by your rivals.
By paying attention on your competitor hashtags, you can find out other relevant hashtags used by your competitors other than the branded hashtags. Then, use those hashtags if they are doing well in order to steal your competitor's followers.
Now It's Your Turn!
This is the end result of our team after a few months of hard work. The possibility of utilizing the hashtag search and tracking tool is endless.  It's your call on how to use it. Try out our Instagram hashtag search and tracking tool now and have fun!