Type #food on Instagram and you will most likely see millions of photos food in various angles and filters. And then there's other food related hashtags like #foodporn (55 million), #instafood (43 million), #foodgasm (11 million) and many others. This is no surprise because everyone can relate to food, guys and girls, young and old. Thus, there is no reason for food brands to not come on board on Instagram to market their brands.
Find a Niche
There is nothing more important than having a clear unique selling point. When you have done this well, people who stumble across your Instagram account would know exactly what you offer. In fact, there are many popular and specific hashtags which you can use to push out your brand voice such as #cleaneating (16 million), #vegan (12 million) and #cupcakes (10 million).
Once you have nailed down your niche, come up with a series of photos and post about one or two each day. Vary your photos but ensure that they stay true to your brand. If you own a bakery, why not show a video of yourself decorating a cake or snap photos of your customers selecting cakes. You could also experiment with overlay texts and motivational phrases to relate your product offering to your customers. It could be something cheeky like, "A cupcake each day keeps the doctor away." Just come up with something fun!
#2 Create New Experiences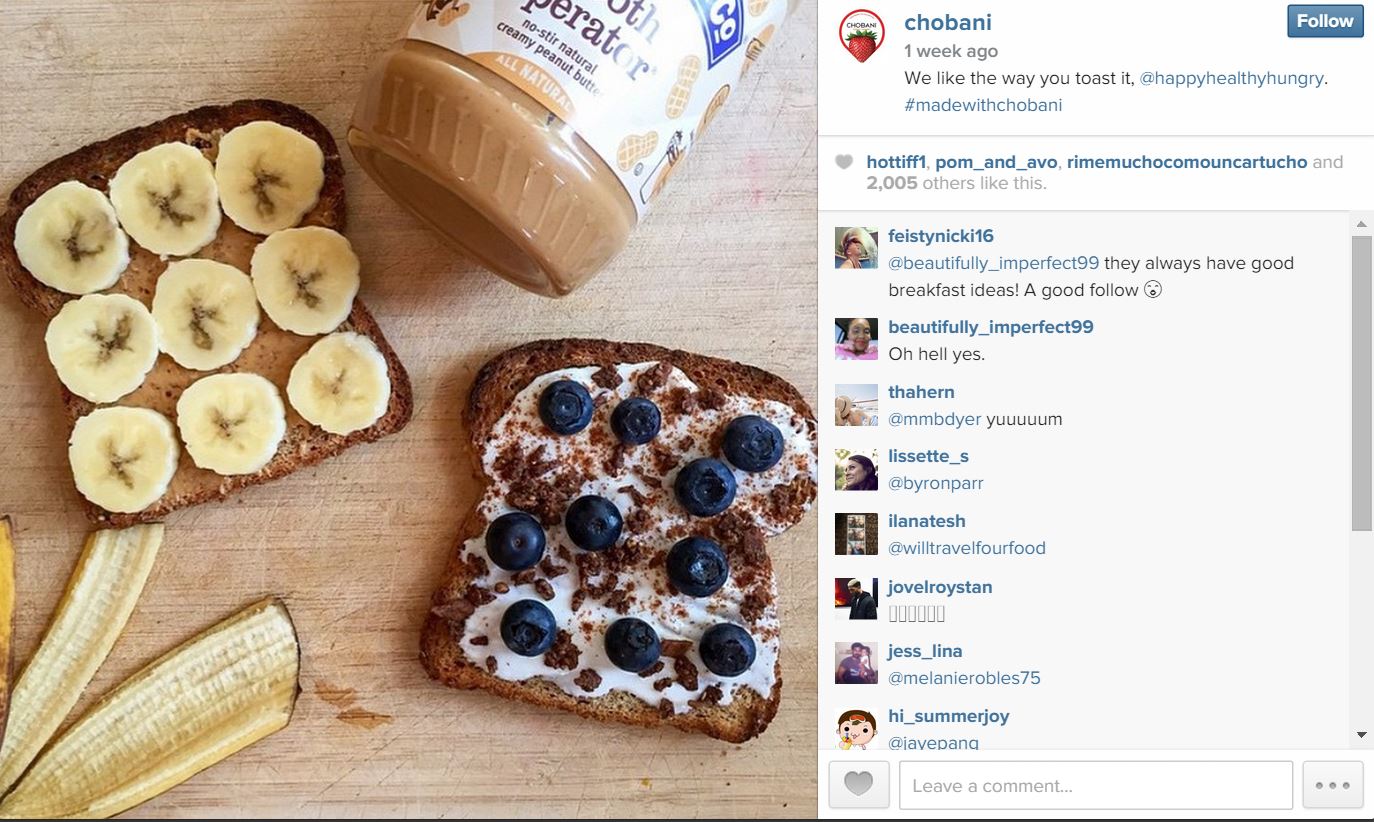 Source: @Chobani Instagram
Posting about food can easily become boring if you do not spice things up (pun intended)! Create special menus or try out new flavours. Entice your customers with a fresh menu every other week. Drop hints on what are your new flavours days before its launch. And then, create unique hashtags for your customers to add to their pictures when they post, and ask for their feedback via Instagram.
For example, a Greek yoghurt brand Chobani in the United States used Instagram to educate their customers on how they can use yoghurt not only as a breakfast item, but also for other recipes such as savoury snacks or healthy desserts. As a result, they managed to maximise their reach to four million 18-49 year-old females in the U.S. in a single month!
#3 Show Off Your Atmosphere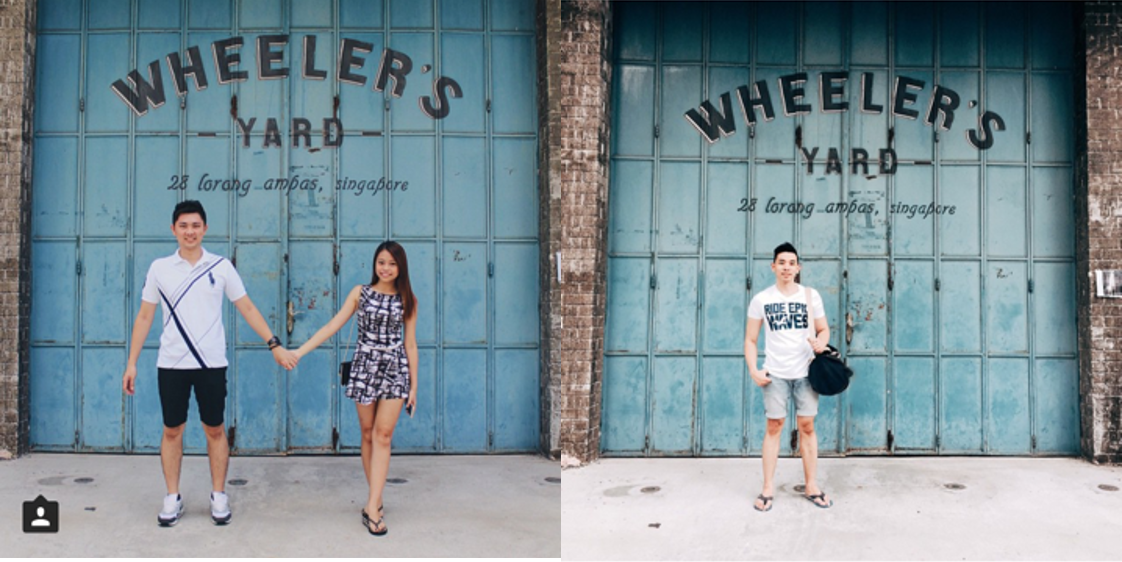 Customers snapping their photos at the iconic background at Wheeler's Yard
Food is not just about the food, it is also about the experience. People are constantly looking for places to go to with their friends. So make sure that you showcase the atmosphere which they can indulge in if they come down to your shop or café.
Come up with a space or a nice iconic background where your customers can snap a photo themselves of. You would be amazed at how quickly this can go viral, and soon you would have new curious customers checking it out for themselves.
#4 Promotions? Use Them Rarely
Isn't it ironic that Instagram is being used as a marketing tool and yet we are telling you to reduce the number of promotions? Well, this is because people follow accounts on Instagram based on what resonates with them.
Spam them with promotions and you can be sure that they will quickly unfollow your account. Why not plan your promotions to tie up with special days? So while certain photos or hashtags are trending, your brand would be in the mix too. Look out for International Women's Day, Mothers' Day or World Food Day, and tie in your promotions with them to make your message stickier.
#5 Use Geotags and Promote Your Website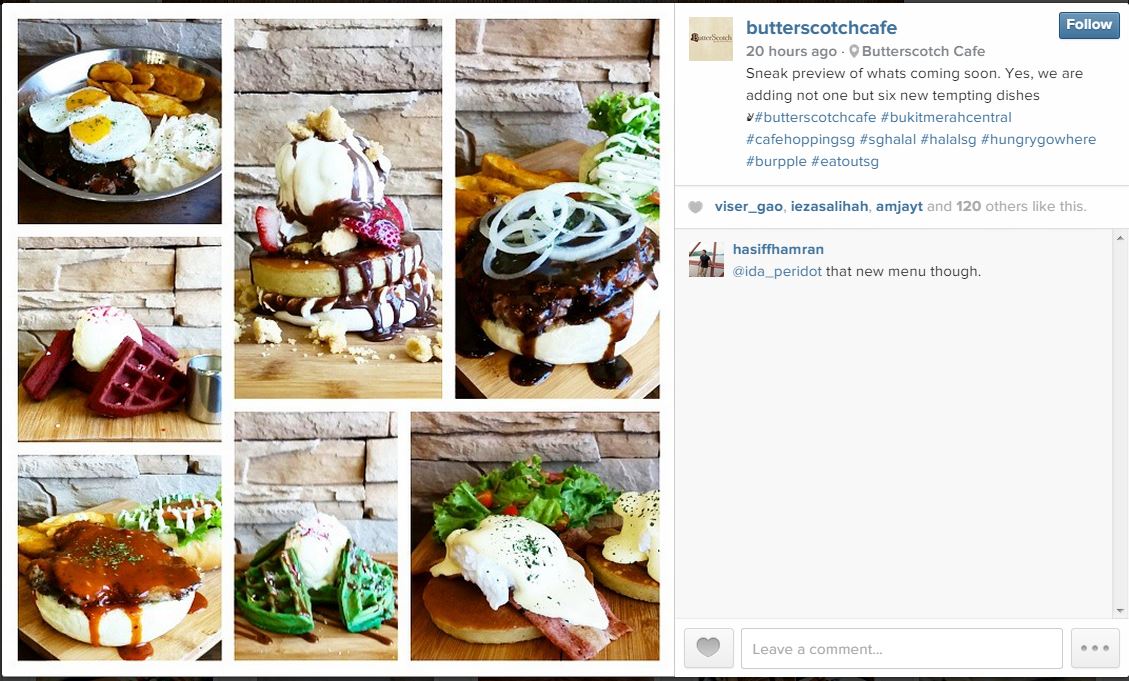 Butterscotch Cafe never fails to geotag their photos
There is nothing more frustrating to a customer than to come across a café or restaurant's Instagram account and not being able to click on their location or website on their bio page. Some customers might make the effort to search online, but many others might just drop it altogether. This is because people want things fast and they tend to look at their Instagram accounts on-the-go. So reduce the effort it takes for them to find out more about your brand.
If you have a website or even a Facebook account, add in the link to your bio so that it becomes more accessible to your customers. This could help your customers decide and plan to come down to your shop in the near future.
Did you know that by adding geotags, customers can click on that location and see all the photos that were tagged with that geotag? So wait no longer and start geotagging your photos!
Play with your food!
Contrary to what parents tell their children, experimenting with flavours and creating experiences with food is important to engage your fans. Try the tips above and mix around the strategies to find out what works for your brand.
Brands
Explore our pool of Instagram influencers, analyse their profiles, and partner with the right Instagram influencers. Energise your sales and marketing efforts with the power of Instagram Marketing!
Engage Influencers
Influencers
Are you active on Instagram with over 1,000 followers? Get found by Top Brands, partner with them in exciting campaigns, promote your instagram profile and get paid doing what you enjoy!
Sign Me Up