Featured image: Source
The role of influencers in digital marketing is on the rise. Creating online buzz about your brand through influencer marketing in 2020 is one of the most powerful ways to enhance its validation.
In this process, you don't blast out information about your brand. Famous people and opinion leaders are doing that for you.
Typically, influencers have sway over things that their followers tend to purchase. Instead of relying on word of mouth, they try to inspire people through actions. They explain in detail how the product or service could benefit consumers.
Statistical Overview
Marketers all around the globe have started to incline towards influencer marketing. It brings credibility and endorsement like no other promotion method.
According to the 2018 survey of marketers by Mediakix, 39% of marketers planned to grow their influencer marketing budget. This survey forecasted that the rate would reach 65% in the year 2019. Mediakix also projected that globally, advertising through influencer marketing in 2020 will be between $5 to 10 billion.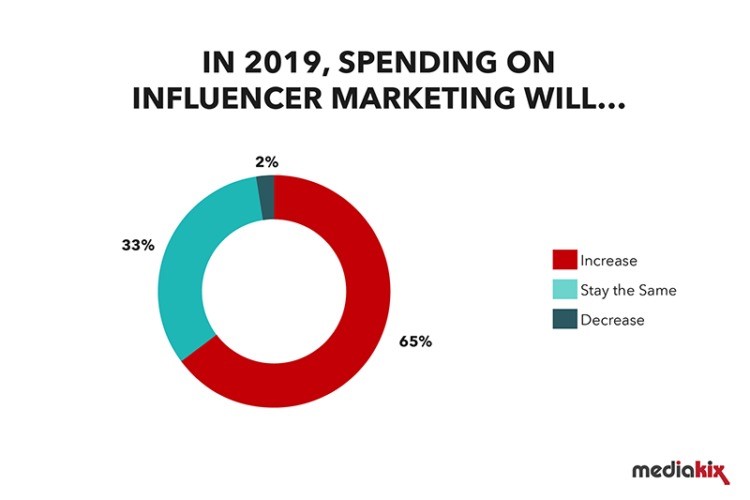 The market is rapidly expanding as influencer types have proliferated. They are filling every niche, and this brings an incredible opportunity for all brands.
The industry leaders opt for celebrities with a massive fanbase like Kylie Jenner and Kanye West. Meanwhile, small and medium-sized ventures are tapping other key influencer types that include micro-influencers, gaming gurus, virtual influencers and more.
Current status of influencer marketing
Given how social media is becoming increasingly entrenched into people's lives, the role of influencers in digital marketing will only grow in the coming years. As per the Business Insider Intelligence Report "Influencer Marketing 2019," the industry will be worth $15 billion by 2022.
Hence, we are sure about one fact – influencer marketing is the next big shot for all brands out there in 2020. Brands can achieve their milestones if they know their onions and carve the right strategy. For further enlightenment of our readers, we have listed down the wonders held by influencer marketing in 2020.
Let's have a look:
Helps to build trust and authority
Trust and confidence are the essential requirements when you want to acquire a sustainable position in the market.
When a famous personality shares content about a brand, it instantly brings credibility to the mentioned brand. People who love and follow that person will immediately be convinced of its high quality, because people respect the influencer's recommendations and want to try it out.
Again, the report by Mediakix reveals that 71% of marketers rate the quality of customers and traffic from influencer marketing to be better than all other resources. By sharing the content of influencers, you can gain the attention of the public. It activates the audience to engage more with your company.
Increases brand awareness
There is no way you can expect profitability unless people know about your brand. In this digital age, people increasingly rely on influencers to make decisions on purchases.
Indeed, using influencers will greatly expand your reach and elevate your position. The online community, in particular, will get to know your story and the solutions you offer.
Keep in mind, having the right kind of influencers on your side can turn your brand into a hot topic. A study by Twitter reveals that people rely on influencers almost as they do upon their friends. 40% of the consumers replied that they purchased an influencer's tweet.
In a 2018 survey based in Singapore, 50% of social media users aged 18-24 were persuaded to purchase a product by a social media influencer
Thus, when you align with an influencer with a tremendous fan-following, their fans will soon recognise your brand. You will automatically rise as the most preferred brand in the market.
Stands out against promotional noise
Gone are the days when salespeople would knock from door to door, letting people know about their new product/service. It was awkward, pushy, and way too annoying sometimes. Influencer marketing is entirely different, as it gets people onto your bandwagon without irritating them.
The followers of an influencer willingly opt to receive content from them. When they talk about a product or service in a natural way, people are ready to listen. Whether they are talking about an online leather jacket store or a food delivery service, they can get the message across without sounding pushy. According to an IAB study, two-thirds of consumers are using ad blockers on their smartphones and computers.
Therefore, social media and in-app ads are prone to be blocked out. On the other hand, influencer marketing is an authentic and reliable way of reaching the right customers.
Provides value to the target audience
You might have seen Youtubers and social media bloggers talking about the latest service or product in town. These serve to be insightful and valuable sources of information for their viewers.
Imagine that you want to buy the latest smartphone. You will instantly look up its reviews and features online. A detailed video by an influencer who talks about its features will help you evaluate the product appropriately. It gives you information about the product, and hence you gain confidence in that product.
Thus, the role of the influencer is not merely limited to selling a product but providing valuable and timely information to the customer.
Every website yearns to get the top ranks in Google Search Engine, and this competition is going to be more intense in 2020.
One of the most critical factors that will fix your rank is the Domain Authority (DA). The study by Moz states that Domain Authority has the biggest influence on your position in the search engine.
Domain Authority is the score that a website receives based on its usefulness, relevance, and information. If your website succeeds in getting backlinks from credible websites, you have a good shot at the top position in the engine.
Moz says that when you get backlinks from trusted pages and high DA, it will boost your ranking too. You can adopt an influencer marketing strategy for this purpose. The influencer who has a good reputation and adds backlinks to your website will increase your likelihood of appearing on top.
Final Takeaway
Gaining traction in social media marketing will be pretty challenging in the next year and thus you must opt for newer methods to hit the company goals. As the role of influencers in digital marketing will be even more vital, influencer marketing in 2020 can be an incredibly beneficial method, bringing exposure to your brand that is lasting and contains scalable power.
If you're convinced, here's how you can carefully curate your influencer marketing strategy. Do let us know if you discover any other benefits of influencer marketing too!
Author Bio:
About Ashley Rosa: Ashley Rosa is a freelance writer and blogger. Writing is her passion which is why she loves to write articles related to the latest trends in technology and sometimes on health-tech as well.  She is crazy about chocolates. You can find her at twitter: @ashrosa2.
Other pointers:
1. Social Influencer Marketing Aids Content Strategy
Social influencer marketing can help in your brand's content strategy as the onus of creating fresh content does not lie with you exclusively.
Influencers on social media are constantly looking for new ways to engage their followers, and a large portion of that is by creating compelling content. Hence they spend a lot of thought and effort into creating quality content for their social channels. Some of the bigger influencers even have their own content or production teams.
As such, your brand will benefit from fresh, new content with less effort needed.
2. Social Influencer Marketing can be more affordable
A study by Bloglovin' reveals that most micro-influencers on Instagram charge less than $250 for a branded post. The same goes for micro-influencers on other channels such as Facebook. In fact, on Twitter, most micro-influencers charge less than $200 for such posts. (The link to Bloglovin' is broken but it's cited by the top few google searches)
Alternatively, Grin blog states that for sponsored blog posts, most micro-influencers charge $1000 or less for a post. 96% charge $1000 or less, and 87% charge $500 or less per post. For Facebook posts, 96% charge $500 or less, and 90% charge $250 or less per post. For branded tweets, 96% charge $200 or less, and 90% charge $150 or less per tweet. As such, the cost of working with influencers might be less than you actually anticipated.
As a company, you get to save a lot on your marketing budget if you work with micro-influencers. Not only can they connect you with your target audience but they are also inexpensive compared to TV ads or billboards.