We live in an age where social media is consuming most of people's time and attention. Businesses and marketers are coming up with new ways to stand out in the clutter and engage with users on a more personal level. Emails have the potential to reach users better and in a more effective manner than other digital marketing channels. Many brands use email marketing to get their message across to existing and potential customers. 
Customers no longer trust traditional brand endorsements and prefer to hear about the brand from ordinary people just like them. Hence, combining email marketing with influencer marketing can improve the quality of your campaigns and help build brand trust and awareness.
Influencers are people who have a loyal following online, and whose opinions and recommendations appear more honest, relatable and authentic to users. As an email marketer, being familiar with influencers in your industry can improve your marketing strategy and make your campaigns more compelling. When email marketers collaborate with influencers, the emails reach out to the influencers' followers as well, thereby increasing brand awareness and boosting conversions and ROI.
Creating Effective Influencer Campaigns with Email Marketing
The first thing to do is to find the right influencer for your business needs. Make sure the influencer you choose embodies your brand and has a persona that is in line with your brand's identity and goals. It is imperative to choose the right one, as a bad influencer can adversely affect your brand.
Here are some ways influencer marketing can be incorporated for email campaigns.
#1 Customer Ratings and Reviews
If you have ever included customer feedback or quotes from real people in your email campaigns, you might have realised they achieve better results from those emails. People tend to rely on peer reviews and check online ratings before making a purchase. It is, therefore, a proven tactic to add customer feedback and reviews about your brand in your emails to make your offerings appear more trustworthy. In addition to that, consider including reviews and endorsements by influencers in your emails to back up the customer reviews. This will lend more credibility to the customer reviews and make your brand more reliable. 
Check out this email example by Bite which includes reviews and ratings from brands and influencers for their product.

(Source)
#2 Teaming Up with Micro-Influencers
Micro-influencers are people who are just starting to build their follower base and have relatively fewer followers. No matter what your business category is, you'll have dozens of micro-influencers with real followers and genuine engagement to choose from. Moreover, micro-influencers are more affordable to work with as compared to celebrities and influencers with a huge follower base. They are perceived as "people like me" by users, and hence, turn out to be more effective than collaborating with macro-influencers that have larger followings. 
Here's an example of an email from the brand Fetching Fields. The brand shares stories by micro-influencers and engages with the readers on a personal level through their #FetchingWith campaign. This email features the story of Amanda Chase – a micro-influencer.
#3 Adding Influencer Stories in Emails
Including real, authentic stories in your campaigns have been proven to be successful. When it comes to marketing to new age users, messages that are scripted and promotional do not work. Letting influencers tell stories themselves is a great way to create more engaging content. This will add an element of trust, freshness, and genuineness to your campaigns and will attract more customers. 
The brand Thumbtack shares success stories from influencers in their email in the form of a video. The email talks about what worked for influencer Oleg and why others should also try their brand. 

(Source)
#4 Use Built-in Brand Influencers
If your brand is well established and you have built-in influencers, then adding a message or quote by them is a great tactic to build trust amongst the users. This works best when you send welcome emails. Adding a note from the influencer that tells them what's in store for them will improve user engagement. This works especially well if the influencer is recognisable and has already been representing your brand for some time.
Check out the below email by Niice. It has a welcome quote and video by Emma, who acts as the brand spokesperson for the company.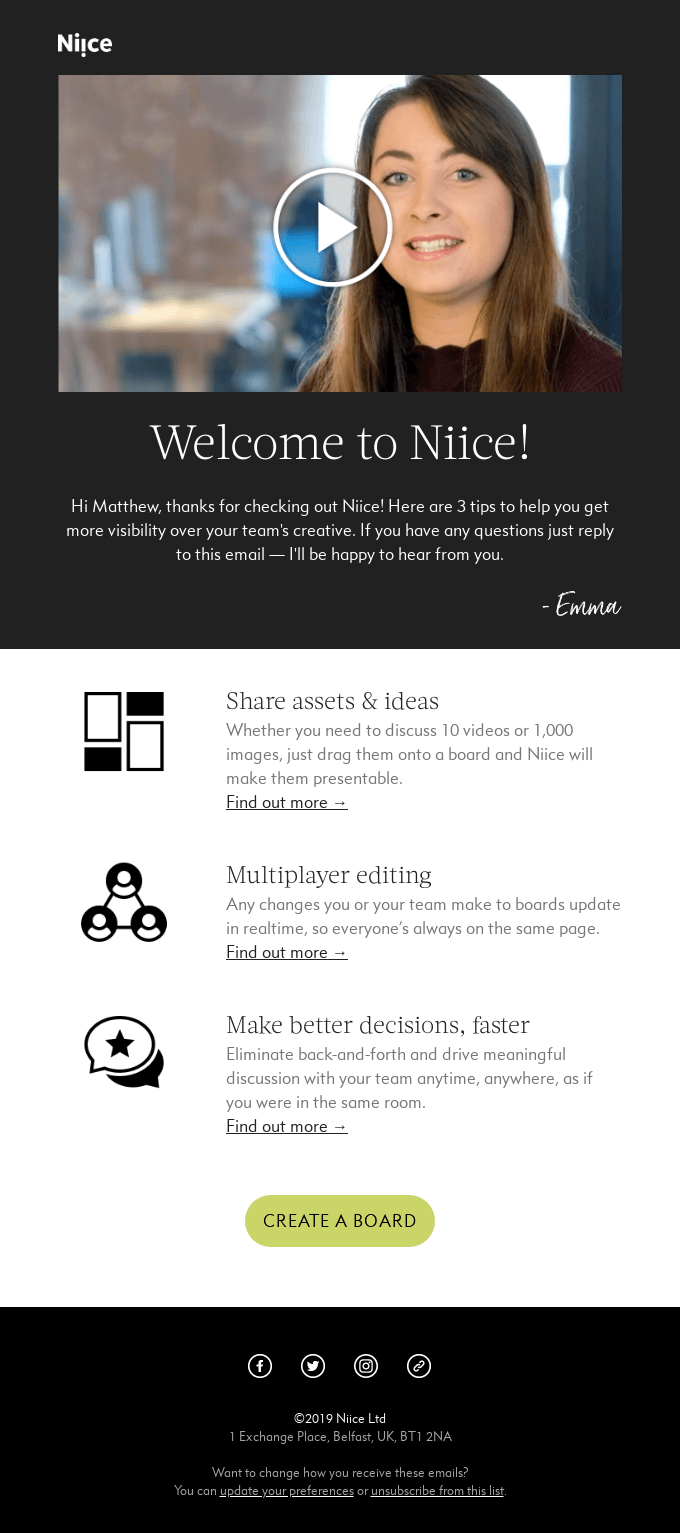 (Source)
#5 Engage Users with Incentives
Offering incentives with your influencer collaboration can draw in more subscribers and boost conversions. Get influencers to advocate your product to by shouting it out on their platforms and providing their followers with incentives. Also, get them to promote exciting discounts or exclusive offers in your email to encourage the users to sign up and make a purchase. You can also provide free downloads and special perks to your regular customers. 
This email from Bose gives the users exciting discounts with each of their products. It also features one user review for each product, to entice users to buy.

(Source)
Wrapping Up
Leveraging the above mentioned influencer strategies can create a positive impact on your brand and make your emails more credible and genuine. A well-integrated influencer and email marketing strategy will help you strengthen your brand identity, convert more customers and improve customer loyalty. 
Are you looking to build an influencer strategy for your email campaigns? All you need to do is find the right influencers and have perfectly crafted emails. To start with, get inspiration from email template examples, or leverage Mailchimp email templates, Pardot templates or Salesforce email templates, and customize them as per your brand guidelines.      
Author bio:
Kevin George is the head of marketing at Email Uplers, that specializes in crafting Professional Email Templates, PSD to HTML Email conversion, and HTML Email Templates. Kevin loves gadgets, bikes & jazz, and he breathes email marketing. He enjoys sharing his insights and thoughts on email marketing best practices on email marketing blogs.