It is no doubt that the Coronavirus or COVID-19 is the most popular topic in the town as it has affected 182 countries and territories in the world and more than 10,000 death cases have been reported. From a monetisation perspective, it definitely impacts a lot of influencers and brands in various industries. 
In this article, we'll show you:
Let's find out more!
How Coronavirus Affects Brands and Influencers:
Halt or postponement of various brand collaborations 
According to several influencers in China, most of the first-quarter  influencer marketing campaigns have been postponed until as late as May. The marketers are pressing pause on everything now due to the uncertainty brought by COVID-19. Many believe that ads run during this period could be seen as tone deaf regardless of which industries they are.
Thus, this greatly hurts the income of the influencers especially those who rely on sponsorship and paid campaigns to earn a living.
Cancellation or postponement of major events and fashion shows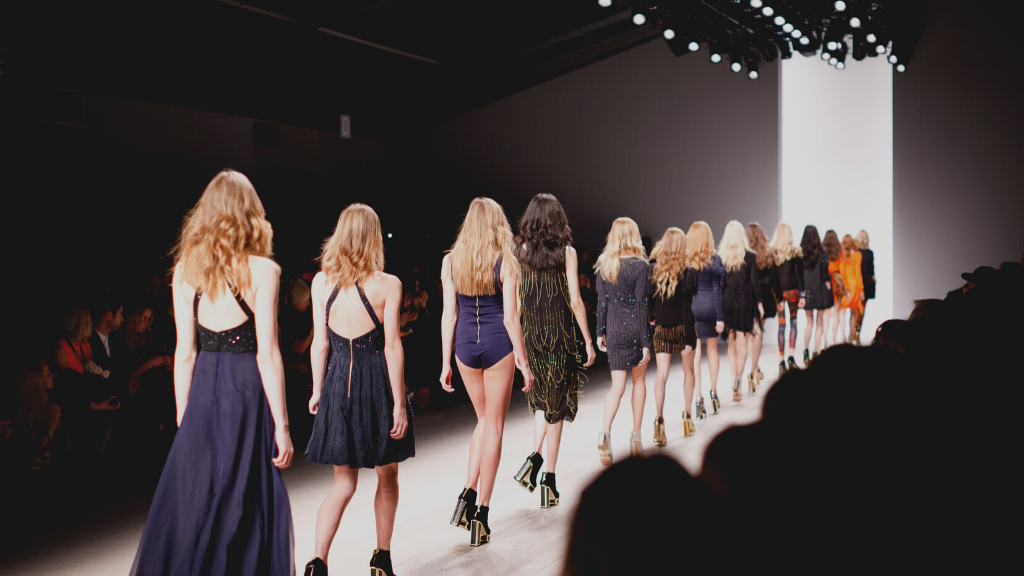 In light of the Coronavirus outbreak, a number of key events have been cancelled. Luxury brands such as Dior, Gucci, Max Mara and Hermès have cancelled their 2021 fashion shows due to this global pandemic.
Besides, the Met Gala, another fashion event, has been delayed indefinitely since the The Metropolitan Museum of Art was closed down after two employees showed symptoms of the virus. Coachella, one of the largest musical events that marketers love to utilize together with influencer marketing has been postponed from April to October over Coronavirus concerns.
This reduces the income of the key-profile influencers and also brands who have been employing these events for extra exposure.
Travel restriction imposed by the governments of different countries
In addition, the Coronavirus outbreak has disrupted the travel and hotel industries due to the travel restriction imposed by the governments of various countries in order to stop the spread of the virus. Disneyland and Genting Highland, for instance, are closed down and many have cancelled their travel plans because of the pandemic.
Furthermore, among different categories of influencers, the travel influencers are the ones who are greatly affected by COVID-19. According to Digiday, Victoria Yore, a travel influencer, has lost 90% of her income as most of the campaigns related to cruise line and airlines are halted. Again, this is because advertising campaigns launched at this critical moment could be ignored by the audience.
Reduced conversions for most industries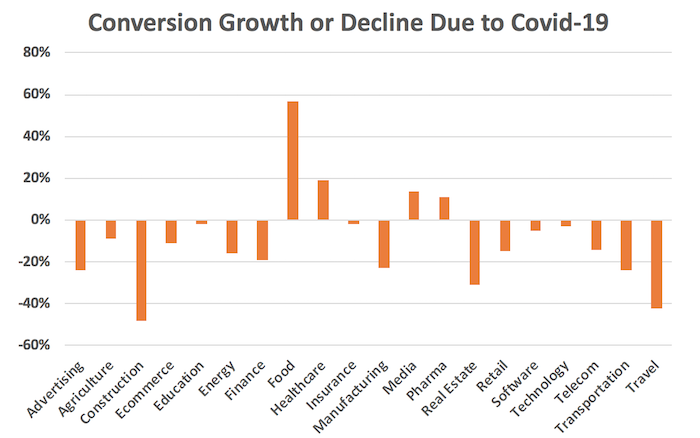 (Source)
According to Neil Patel, conversions drop tremendously in most of the sectors. Other than the news and media sites that enjoy a rise in conversions, most industries are badly interrupted by COVID-19 as the consumers are not in a shopping mood now.
Although it seems that most industries and influencers are in turmoil, from a content standpoint, our team has different points of view. In fact, Vodafone, a popular internet service provider has seen a 30% surge in internet traffic due to the growing trend of working for home caused by lockdowns and border control. 
Hence, we believe that brands and influencers will experience positive gains in terms of increased viewership and engagement. Many will spend more time on social media for distraction while they are staying at home due to the lockdowns.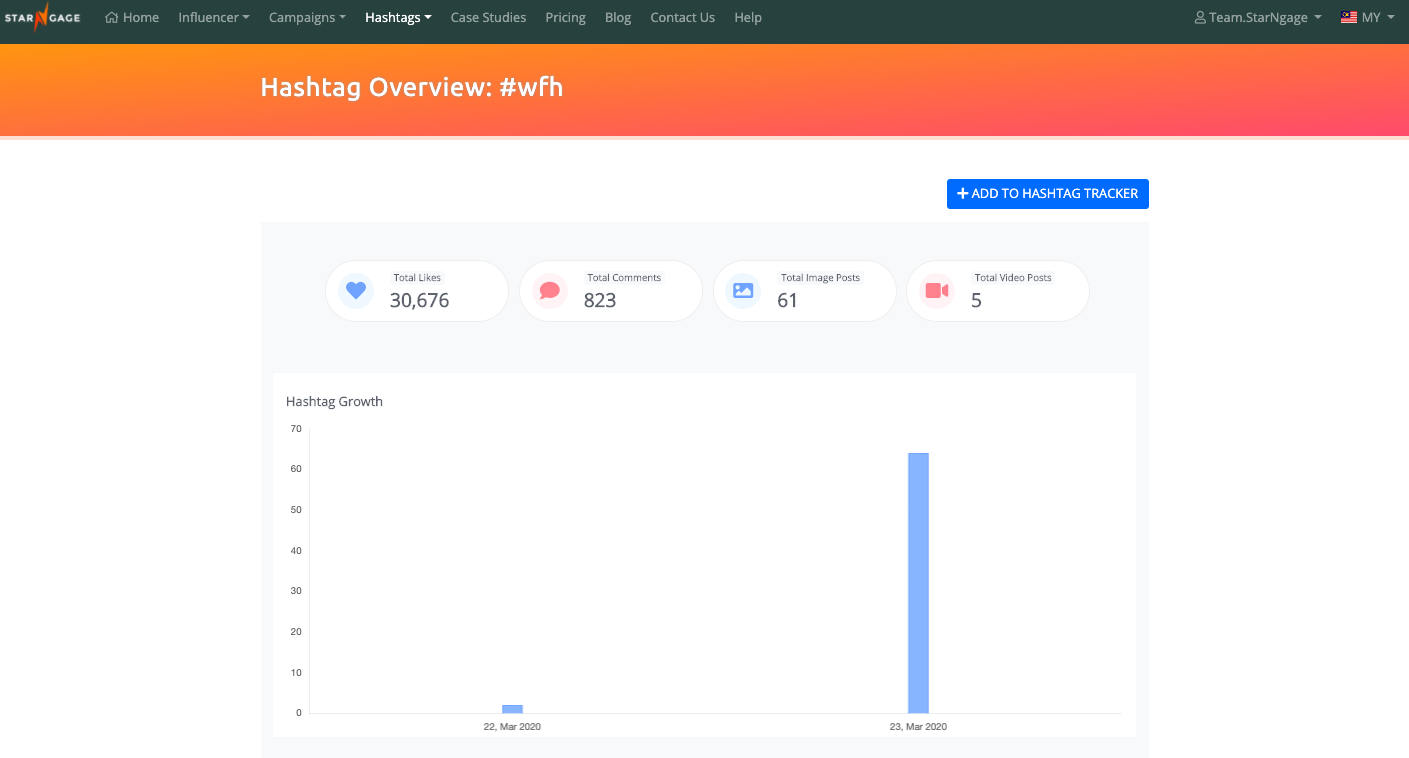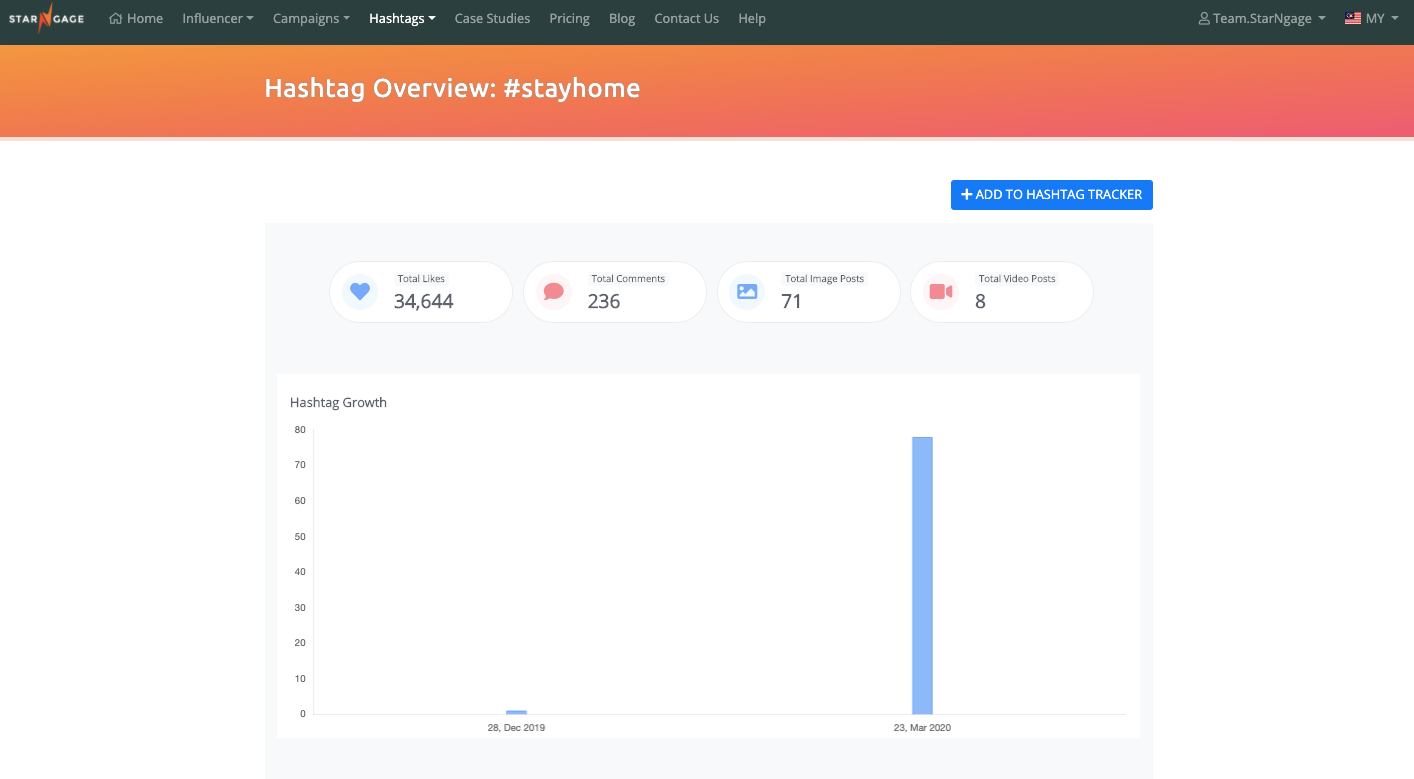 Using StarNgage Instagram hashtag analytics tool, our team has found that the number of content using Instagram hashtags #wfh, #stayhome, #stayathome, #staysafe, #washyourhands and other hashtags related to COVID-19 has been growing steadily.
Search, Track and Analyze Instagram Hashtags in Less Time
Our Instagram hashtag tracker is what you need to analyse your hashtag performance and improve your influencer marketing campaign.
We have also discovered a few brilliant examples of how brands and influencers react to Coronavirus and use their content to interact with their audience during this critical period.
How Brands and Influencers React During Coronavirus Outbreak:
Content showing gratitude
Other than developing content on how to stay safe during this period, KFC Malaysia takes the opportunity to show appreciation to delivery riders who are still working during the two-week lockdown in Malaysia. Gratitude is given to the delivery riders including those from its competitors through its Instagram post which manages to garner 7,032 likes and 103 comments from the Instagram users at the time of writing.
Besides, Instagram has launched a sticker for users to thank the healthcare workers who have been working hard during such trying time. This enables the users to present their gratitude towards these unsung heroes who are willing to sacrifice to save the lives.
Logo redesign to encourage social distancing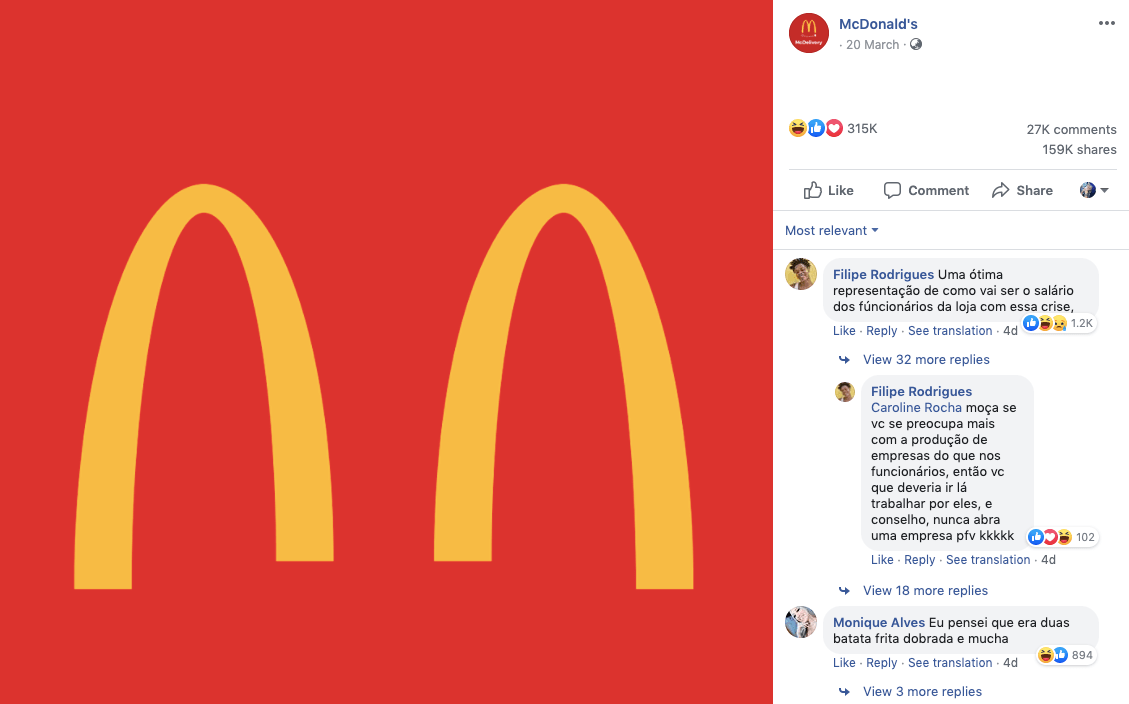 McDonald's adds a fun twist to its logo by separating the two arches of the M logo in an attempt to educate its customers to practice social distancing. However, this is only done with McDonald's Brazilian Facebook and Instagram page.
There are other brands who join the bandwagon to reflect social distancing by playing up the situation with their own twist on their logos. These include Telekom Malaysia, INTI International University and Colleges and so on.
Increasing live-streaming content
While many are confined to their homes, sales in physical stores are most likely to be affected. Thus, many brands have turned to live-streaming to promote their products. Xiaomi, for example, has used Taobao Live to broadcast the launch of its new smartphone, Mi 10 while combining the resources of Alibaba's ecosystem to drive its online sales during Xiaomi's Tmall Super Brand Day. 
Barry's UK, an international high-end gym has launched its first ever Instagram live workout to stay connected with its customers. It also encourages them to share their sweaty selfies in order to build rapport while practising social distancing.
Influencers using their influence to raise awareness
In this difficult phase, we are grateful to see a number of KOLs who actually use their influence to warn their followers to look into this global issue and take precautionary measures if possible. Chiara Ferragni, an Italian influencer together with her husband, Fedez have raised over €3 million to help in combating the Coronavirus epidemic in Italy.
Meanwhile, Ray, a Taiwanese YouTuber, creates a video featuring an open letter to the World Health Organization (WHO) to heighten the awareness for Taiwan to participate in WHO in order to receive aid in fighting against the Coronavirus outbreak.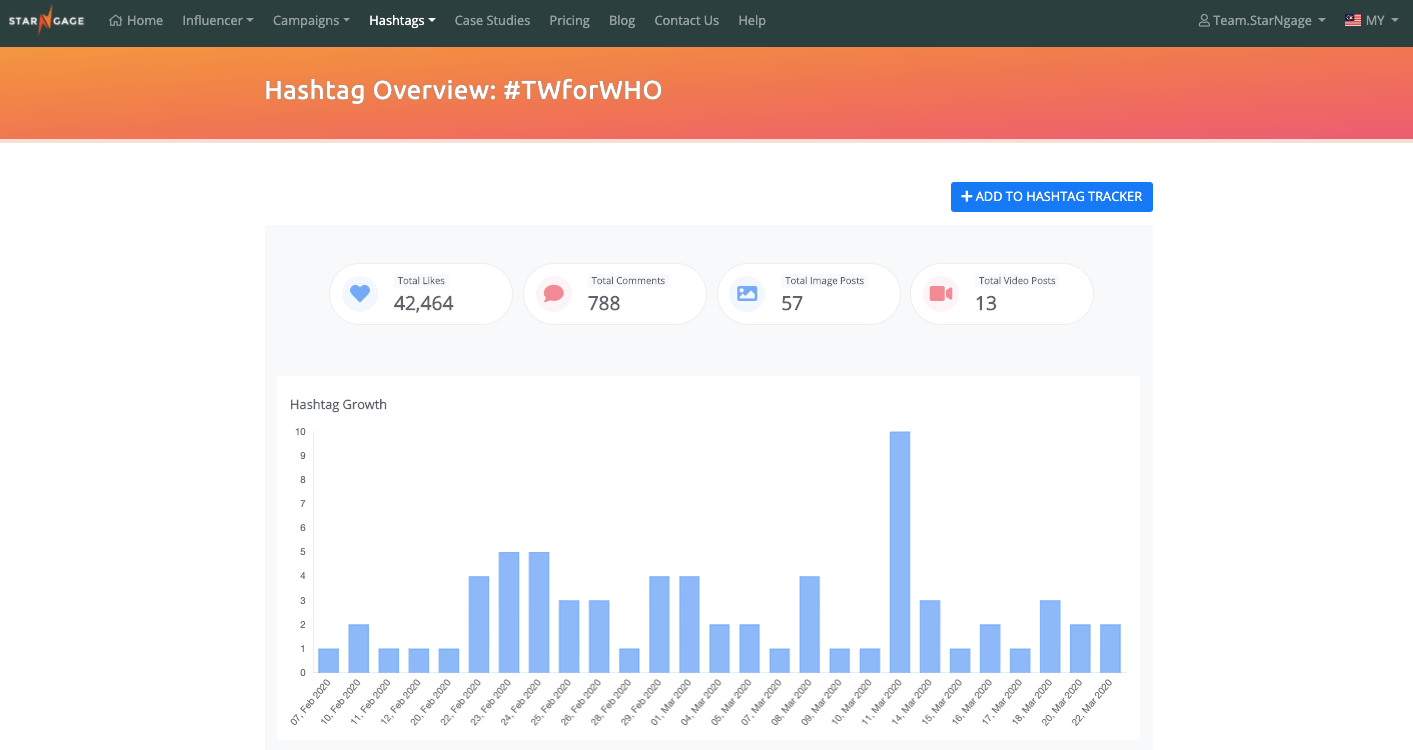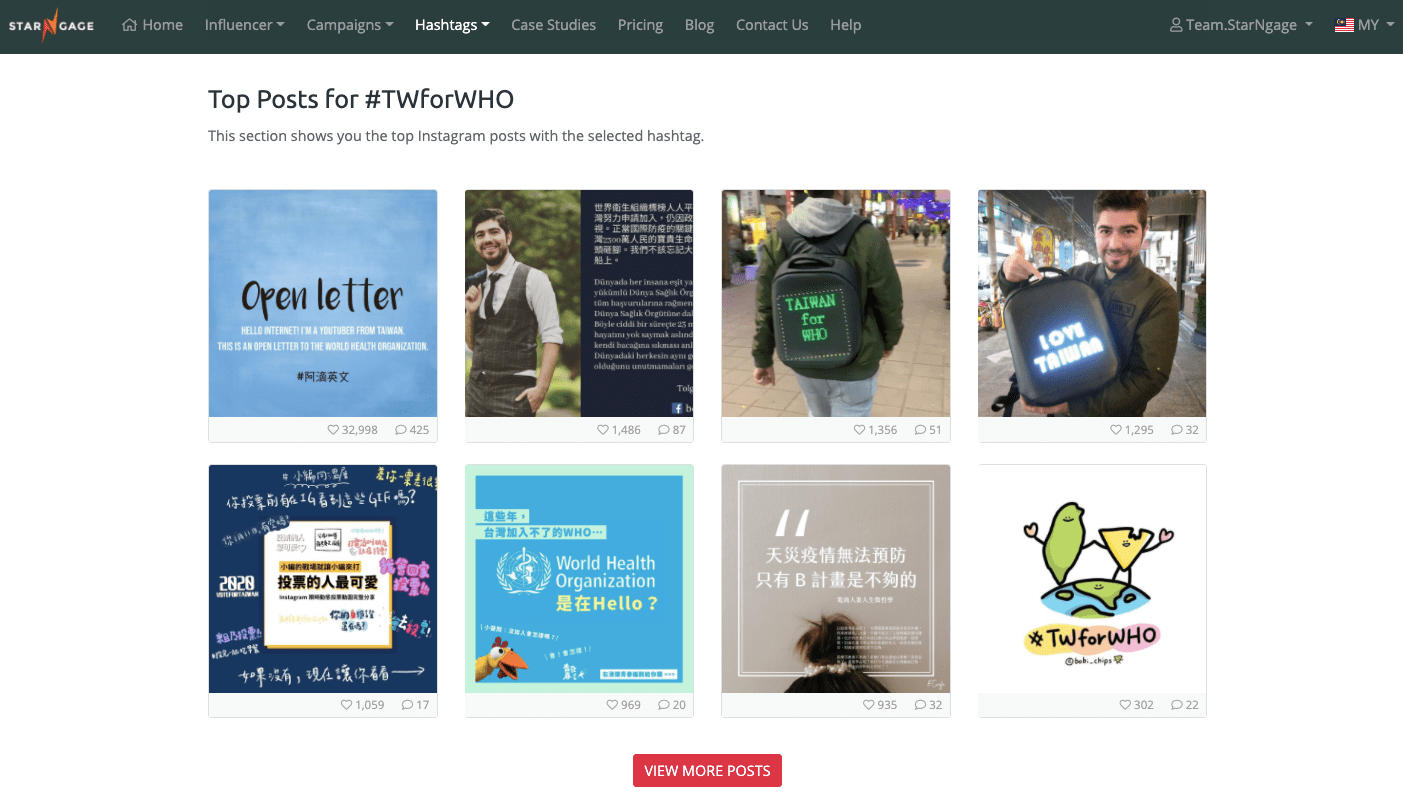 While his YouTube video has garnered more than 1,300,000 views, his hashtag #TWforWHO has garnered 42,464 likes and 788 comments. It also sparks communication among other influencers and followers.
In Vietnam, Quang Đăng, an influencer from Ho Chi Minh city who is also a dancer and choreographer has started the #GhenCoVyChallenge on TikTok to encourage the public to follow WHO's recommendation to wash hands frequently by demonstrating hand-washing steps in his dance moves. This video has obtained 5.3 million views, 405.7K likes, 23.0K shares and 3,444 comments on TikTok. It is also reshared by the United Nations Children's Fund (UNICEF) to reach out to more people.
Content on tips to stay productive and active while staying at home
While many have to work for home, it is not easy to stay productive and active at home. Fashion influencer, Ashley has created a YouTube video showing tips on how to remain productive while studying or working from home.
Besides, Jenn Im, a Korean American fashion YouTubers has also published a YouTube video to share with her followers about things that they can do at home to kill boredom.
Meanwhile, Emi Wong, a fitness influencer, has tried to inspire her followers to exercise more via her home workout video. She and her husband have joined the viral TikTok #plankchallenge to encourage her followers to stay active even the gyms are closed during quarantine periods.
Takeaway:
As the audience spends more time on social media, this means that your content will have higher chances to be noticed than usual. As a brand or influencer, it will be great if you can take this opportunity to connect with your audience.
Do not simply hijack the topic or #coronavirus hashtags for Instagram or TikTok fame by starting a ridiculous Coronavirus challenge that eventually backfires and downgrades your image. Innovate out of the crisis by creating content that is useful and relevant to your audience while showing support to them. Make your social media page the most comforting corner of the internet during such a hard time. Stay safe and healthy!
Let's work together!
Interested to learn more about StarNgage, our tools and influencer marketing service?