Advertiser & Influencer FAQs

Advertiser FAQ

Influencer FAQ
StarNgage is a proprietary Instagram analytics and marketing platform which allows you to work directly with Instagram influencers. Each engagement is a four-step process:
Target

:​ Set your targeted customer profiles and industry categories (eg food, fashion, fitness, etc). Craft campaign brief and promotion mechanics, while indicating preferred cost-per-engagement.

Identify

​: Search for your category-specific and brand aligned influencers with the right profile. Promote your campaign to these influencers through our patented matching algorithm.

Amplify

:​ Mobilise influencers to create optimised visual content that engages target consumers, amplifies your brand messages, and generates online buzz. If help is needed, we will be happy to review your campaign mechanics.

Track

​: Once your campaign launches, you can keep track of your influencer marketing campaign through our performance dashboard.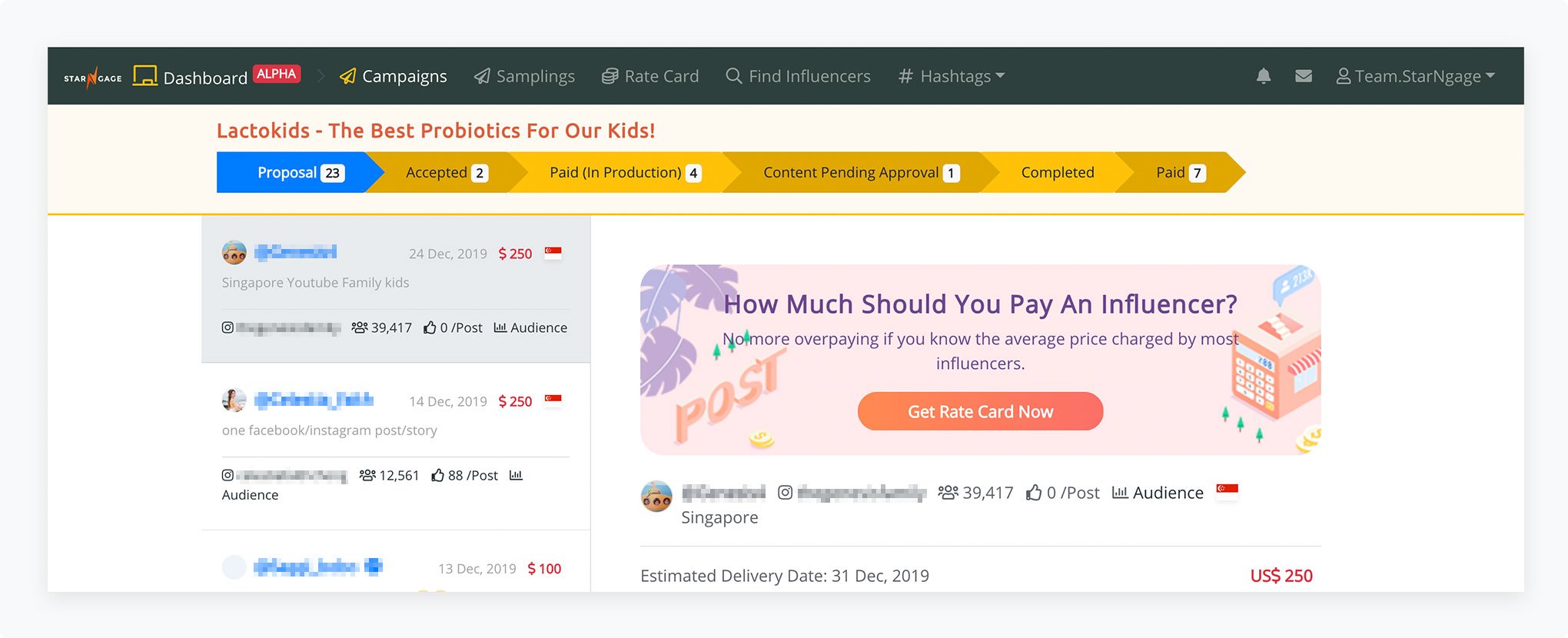 Can I sign up for both the advertiser & influencer accounts with the same email address?
No. One email address can only be used to sign up for one type of account.
Who are StarNgage's influencers?
Hobbyists passionate about fashion, sports, food, travel, photography and other interests, our Instagram influencers have a good following of mostly friends and family. Also known as "Long Tail" or "Micro" influencers, everyday influencers may not hog the headlines like celebrities. However, their fans are more likely to believe, trust and take action based on what they say. We conduct data analytics on each of our Instagram influencers. They include the number of followers, engagement levels ("likes", comments and reposts), as well as other qualitative factors. We will also equip our influencers with the skills and knowledge to drive his or her followers to take action (eg signups, sales, installs) in specific markets.
What social media platforms are your influencers on?
At this moment, StarNgage's proprietary platform tracks the Instagram social media platform. However, we will be happy to work with advertisers and influencers on campaigns which extend to other social media platforms like Youtube, Facebook, Twitter, or blogs where necessary.
What is the difference between free sampling campaign and paid campaign?
Free Sampling Campaign: Sponsor product samples for influencers to feature/review the product on social media.
Paid campaign: Pay the influencers for featuring the products on social media. There will be a fixed percentage of commission payable to StarNgage as a token to keep the platform in operation.
How can I create campaigns via the self-service platform?
Log in to your advertiser's account and go to the dashboard to kickstart your campaign. Your campaign briefs can be published for free. Once published, you'll start receiving interest from influencers. It is completely up to you to decide whether or not you'd like to work with them - there is no obligation to accept.
Instructions:

Sign up or log in as an advertiser.
Choose the type of the campaign that you want to publish. You can either select to

sponsor a product for free

or

engage with the influencers for a fee

.
Create your new campaign by filling up the campaign brief. After creating your campaign, it will be sent to the StarNgage Editorial   Team for approval (typically takes

1-3 business days

). Once it is approved, it will be shared with our network of influencers.
You will then start receiving interest from influencers.
After the influencers have submitted their proposals or application, you can decide whether to accept or reject their proposals.
Proceed to make payment to our platform when you have confirmed the pricing.
Once you have made the payment to StarNgage and the influencers have sent you their works, check their works.
Can you customise campaigns for my brand?
We will certainly be happy to consider customised Instagram marketing campaigns for companies, based on the size and scope of the campaign. Please email us at
[email protected]
with the details of your campaign.
How long does it take for the approval of my campaign?
After creating your campaign, it will be sent to the StarNgage Editorial Team for approval (typically takes 1-3 business days). Once it is approved, it will be shared with our network of influencers.
Can I choose the influencers whom I wish to work with?
Certainly! StarNgage provides you with the flexibility to pick and choose influencers which match your industry category, brand, and budget. We will be happy to reach out to other influencers whom you are keen to work with and connect with them if they have not signed up on the platform.
How to browse the Influencers Listing Information?
Browsing the
StarNgage Influencer Listing
is a premium feature. Free plan users will not be able to view the listing information for more than 3 pages. Advertisers need to subscribe to the self-service plans to view the contact details of influencers. A paid plan also allows you to refine your search by country, age, number of followers, average engagement rate and most importantly, send invitations. Upgrading your account means you will see faster response time, send private invitations to influencers that you'd like to engage and you can run campaigns more effectively.
How can I contact the influencers?
You can contact the influencers whom you are keen to work with through email as the email address of influencers are provided in the influencer listing information.
You can also liaise with the influencer under the comment section of the proposal tab in the campaign dashboard. (Campaigns → ️View proposal → Comment)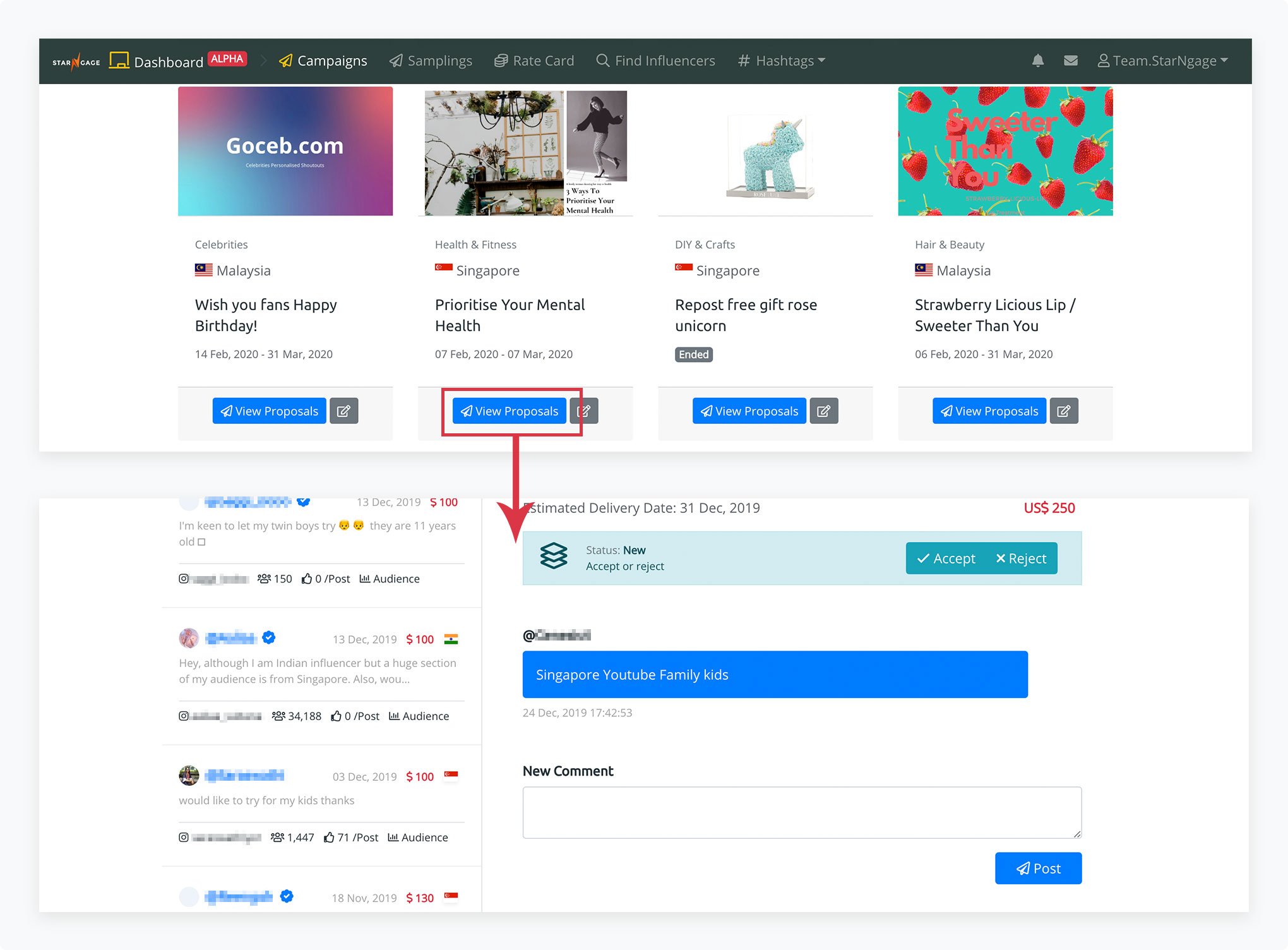 How much should I pay to the influencers?
Different influencers charge different rates. You can utilise our influencer rate card feature to assist you in making a rough estimation on how much you should spend on your influencer marketing campaign and prevent yourself from overpaying. By combining the statistics from various countries,
StarNgage influencer rate card
provides the average rates charged by most influencers.
How can I track the result of my campaign?
You can keep track of your influencer marketing campaign or progress through our performance dashboard.
You can easily keep track of the performance of your influencer marketing campaign by tracking the campaign-specific hashtag with our hashtag tracker. You will then be able to determine which influencers have garnered the best results which will justify whether you should work with them again in the future.
What is the difference between self-service plan and VIP manage plan?
A self-service plan is suitable for advertisers who like to have full control of their influencer search and marketing campaign. For a self-service plan, there is a 10% transaction fees to cover the payment gateway fees and keep the platform in operation.
StarNgage VIP Managed Service is the perfect solution for brands, agencies, and fast growing startups who want to do more with scaling up your branded content and need a full service team that will cover everything from soup to nuts. 30% service fees will be charged by StarNgage.
What's the difference between 3 self service plans?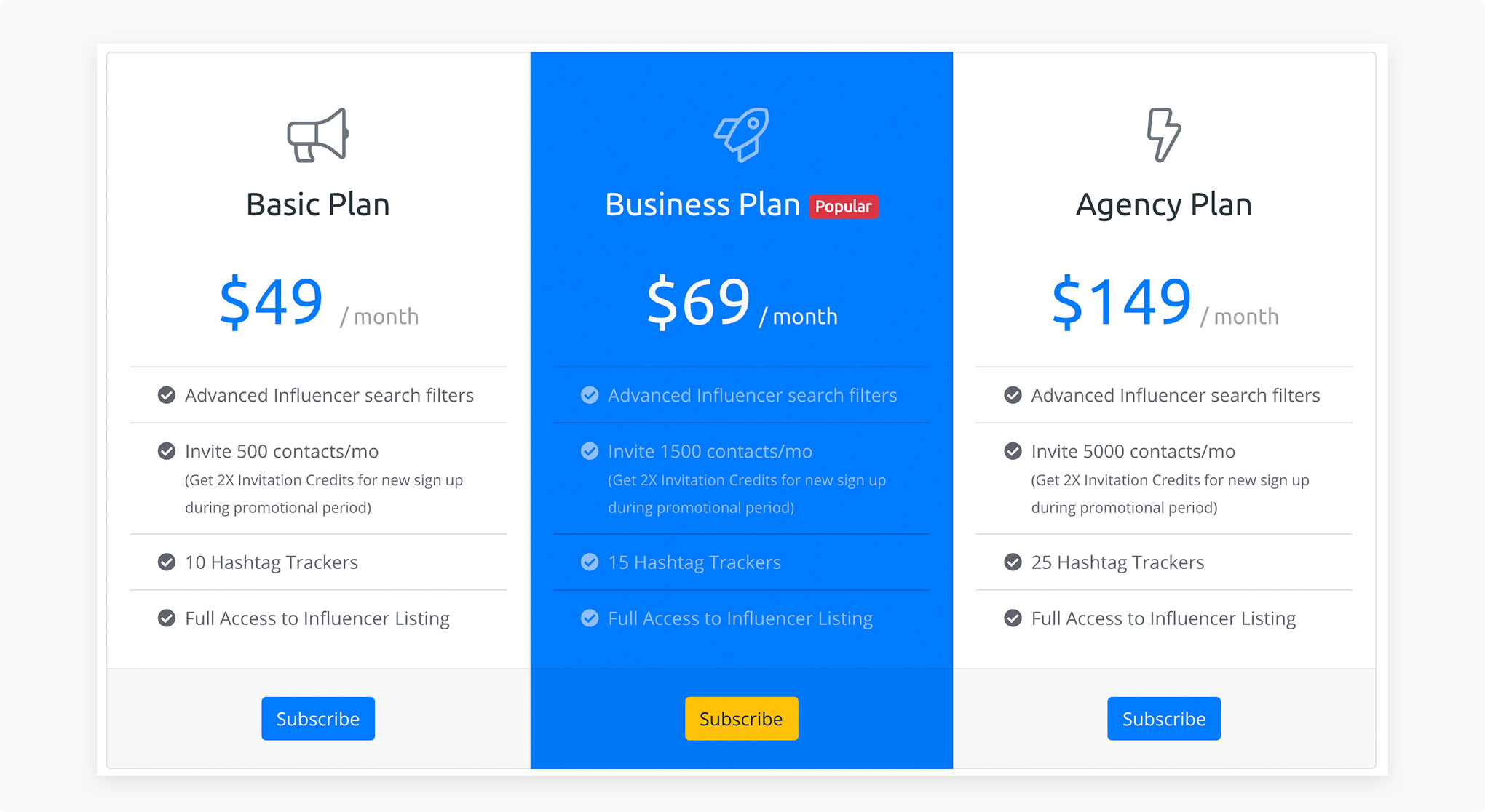 What's the difference between the Basic, Business and Agency plans?
The Basic plan gives you the ability to invite influencers to participate in your campaign.
The Business and Agency plans give you all the benefits of the Basic plan plus additional bulk invitation credit. It is designed for marketers who are working with large numbers of influencers. You can skip the time-consuming steps of building a list of influencers, finding their contact information, and communicating with each one separately.
What if I pick the wrong plan?
We allow you to switch plans at any time, during the trial or after you've paid. Simply pick the plan that seems right for you and don't worry if you change your mind.
How long I am bound for when I sign up or what is the minimum period of time I have to sign up for?
Minimum subscription is one month. You can opt out from the subscription plan anytime after one month.
StarNgage allows you to pay for your campaigns primarily through the Credit Card. However, we may introduce other electronic payment methods in future.
How are payments handled on StarNgage?
If a payment to an influencer is negotiated as part of a collaboration, the brand is required to make payment before the commencement of the campaign. As a brand, payment is only taken once you have selected and approved an Influencer proposal. Once funded, StarNgage holds all funds in escrow to mitigate the risk of a Influencer creating content and not getting paid, or a brand paying an Influencer and not receiving any content creation in returns. StarNgage takes
20% as commission
. For example, for a $100 paid collaboration, brands will pay $120 and $20 will be paid to StarNgage.
StarNgage is an Instagram marketing platform that enables brands to analyse, customise, manage, measure word-of-mouth marketing and connect with top influencers on Instagram.
How do I qualify to be an Influencer?
To be a StarNgage influencer, you need to be active on Instagram. You love to take photos and share them with your friends. What's more, you are likely to be an amateur chef, foodie, fashionista, avid traveller, keen photographer, fitness or sports freak, artist, or designer. Aside from that, you would have achieved a certain number of followers and gained significant levels of engagement ("likes" and comments) for each of your Instagram posts. To qualify as preferred influencers, you are required to have
at least 1,000 followers
. As we match you with possible opportunities, you can decide if you are interested on a campaign-by-campaign basis.
Does StarNgage have exclusive contracts?
No. We believe that influencers should have the freedom to work with any agency that they wish to and have the full right to their own accounts. For influencers signed to an exclusive contract, we will work with their agency/manager.
Can I sign up as an influencer & an advertisers using the same email?
No. Each email address can only be used to sign up for one type of account.
How do I create an influencer's account on StarNgage?
To sign up as an influencer at StarNgage, all you need to do is just to visit this
sign-up page
and submit your details.
What do I do after creating an influencer's account?
After signing up as an Influencer, you can start exploring the campaign tabs to search for available paid campaigns that you can sign up for. You may also explore our free campaigns that you can apply.
To increase your exposure to advertisers and be shown under influencer search tab, you are encouraged to

verify your accounts

simply by connecting to your Instagram account.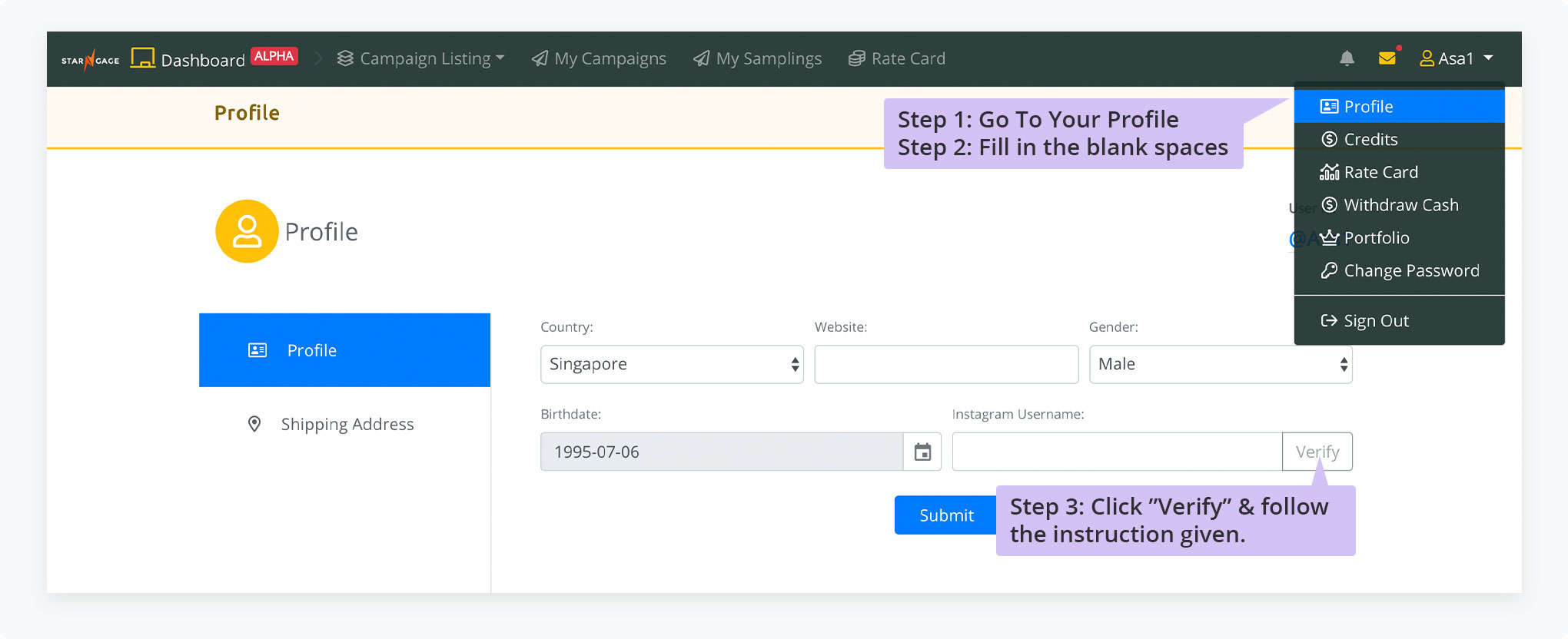 What do campaigns look like?
Campaigns would usually consist of promoting the brands' products or services based on the brand's detailed specification. They could include any of the following exciting activities and opportunities:
New product launches

: This could include behind-the-scenes event invitations, previews, product photos, user trials, etc.

Contests

: This could include influencer contests and follower participation competitions, or use of hashtags.

Promotions

: Special deals, sales or discounts, usually tagged to a unique hashtag or code.

Event coverage

: Invitations to influencer or media events by the companies.

Brand fan growth

: Influencers to "take over" the Instagram accounts for brands and to help to grow their fan base.
*
Tips
: Do check out this free tool "
Hashtag Tracker
" while promoting the products for your client. It really comes in handy to increase the exposure of your posts!
How do I participate in campaigns?
There are two ways in the following:
You can browse through the paid campaigns or free campaigns created by different brands on StarNgage. You may proceed to login to apply for campaigns that you are interested in joining. Before you apply, please kindly make sure the

region of the campaign

applies to your current location.

For paid campaigns, you will need to submit a proposal that includes the fees and delivery date.

For free campaigns, all you need to do is just to click on the "Apply" button.

You may also wait for brands to send you personal invitations to participate in their campaigns. Accept the invitation and negotiate with the client if you are keen to join.
Once you apply for a campaign, you will receive an email from the brand. This should include the mechanics of the campaign, the valued offer to influencers, as well as any specific instructions.
How will I be compensated?
As a valued influencer, you will receive different forms of benefits from the brands that you work with. This could vary depending on the unique requirements of the campaign as well as the scope, scale and impact. They may include the following:
Complementary products or services

Monetary compensation

(either based on the number of posts or engagement)

Commission

based on referred sales or other KPIs (eg: customer or member acquisition)
How much should I charge per campaign/post?
By completing your profile on StarNgage, you will have free access to our latest tool "
Influencer Rate Card
". We have managed to generate a rate card that includes the influencer rates from different countries based on the connection with over 40,000 Instagram influencers since 2015. By having access to our rate card, you will have more confidence when negotiating with clients.
We will pay influencers either through PayPal or Bank Transfer. Unless otherwise agreed upon, payments over $500 will be done through cheque/Bank Transfer.
*
Please note that we retain a 20% fee from each transaction for providing our services as a marketplace.
Additional Questions Or Need Help?
We are happy to help you If you need further assistance. Kindly
contact us
by filling up the form.
This website uses cookies. By continuing to browse the site you are agreeing to our use of cookies.