Mizzerybell's Profile Analytics and Audience Demographics
United States
I'm a work from home mom, photographer, and lifestyle influlencer who loves to cook and create recipes for the family! In-between California and Las Vega, Nevada ..I like to find new eat trends and help spread awareness about projects, recipes, hot spots, health, all of the above. I'm very open with my peers and following about what products I use. Not only do I have a passion for creating energetic and colorful content, I think its really important to bring a purpose and paint a aesthetically pleasing scenes for the consumer. I pride myself in my "down to earth" perspective because it brings integrity to the brand being highlighted. Looking forward to expanding in all areas of influencing.
PROFILE OVERVIEW OF MIZZERYBELL
45.1% of mizzerybell's followers are female and 54.9% are male. Average engagement rate on the posts is around 140%. The average number of likes per post is 587 and the average number of comments is 61.

Mizzerybell loves posting about Cooking, Animals & Pets, Architecture, Art, Cars & Motorcycles, Celebrities, Design, DIY & Crafts, Education, Gardening, Hair & Beauty, Health & Fitness, Food & Drink, Humor, Kids & Parenting, Nature & Outdoors, Photography, Travel, Technology, Fashion, Game.
Check mizzerybell's audience demography. This analytics report shows mizzerybell's audience demographic percentage for key statistic like number of followers, average engagement rate, topic of interests, top-5 countries, core gender and so forth.
GENDER OF ENGAGERS FOR MIZZERYBELL
AUDIENCE INTERESTS OF MIZZERYBELL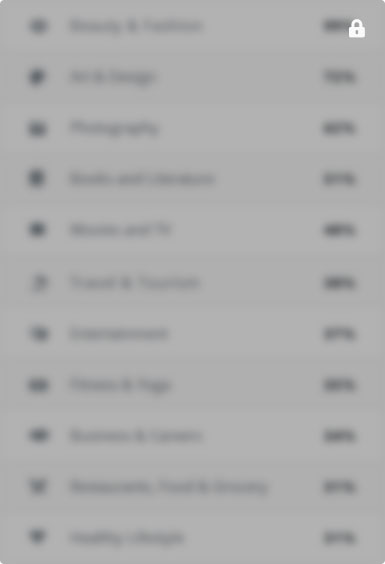 PEOPLE ALSO VIEWED
Looking for the next influencer in United States to work with?
Have you considered to work with the following influencers?

This website uses cookies. By continuing to browse the site you are agreeing to our use of cookies.