_salvestrini's Profile Analytics and Audience Demographics
PROFILE OVERVIEW OF _SALVESTRINI
Average engagement rate on the posts is around 3.69%. The average number of likes per post is 0 and the average number of comments is 0.

27.27% of the followers that engaged with _salvestrini regularly are from United States, followed by France at 13.64% and United Kingdom at 9.09%. In summary, the top 5 countries of _salvestrini's posts engager are coming from United States, France, United Kingdom, India, Qatar.

_salvestrini loves posting about Animals & Pets, Architecture, Art, Cars & Motorcycles, Design, DIY & Crafts, Film, Music & Books, Gardening, Health & Fitness, Food & Drink, Humor, Kids & Parenting, Nature & Outdoors, Photography, Technology, Fashion.
Check _salvestrini's audience demography. This analytics report shows _salvestrini's audience demographic percentage for key statistic like number of followers, average engagement rate, topic of interests, top-5 countries, core gender and so forth.
GENDER OF ENGAGERS FOR _SALVESTRINI
AUDIENCE COUNTRIES OF _SALVESTRINI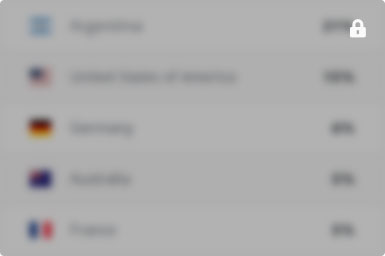 PEOPLE ALSO VIEWED
Looking for the next influencer in United States to work with?
Have you considered to work with the following influencers?

This website uses cookies. By continuing to browse the site you are agreeing to our use of cookies.